Bar Soba - Leeds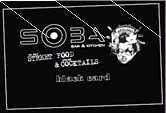 Bar Soba are an award-winning Pan-Asian Street Food kitchen and indulgent Cocktail bar based in Merrion Street, Leeds City Centre. As if straight from the markets and noodle vendors of South-East Asia to your plate, you'll experience the most authentic in Pan-Asian street food.
The tantalizing tastes of Thailand, Vietnam, Malaysia, Singapore, Korea, China and Japan, all make for one unforgettable dining experience.
To register for a Soba Black Card, where registered Members can qualify for up to 30% off their Total Food Bill as well as be the first to know about any forthcoming events or promotions, just go to www.­barsoba.­co.­uk/­register and complete the online application form. You can start using the card straight away by booking tables in the Black Card section of our website and by logging-in with your registered email address. Your card will be send out in the post within 4 weeks.