Cinderella - Panto time!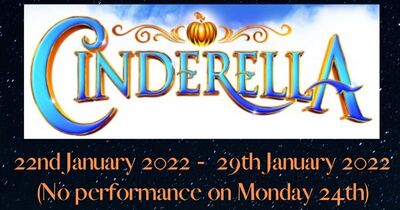 Panto Time! Cinderella - 22 to 29 January 2022 at the Lyric Theatre, Dinnington
Offer! When you come to see Cinderella you can get 20% off food at the Monk's Bridge Farm Inn on Nobel Way in Dinnington. All you need to do is show your ticket when they order to claim the discount.
Join in the panto fun as Dinnington Operatic Society brings the fairy godmother of all pantos, the wonderful Cinderella to the Lyric Theatre, Laughton Road, Dinnington from 22 to 29 January 2022.
Poor Cinders is at the mercy of her wicked stepmother and cruel ugly stepsisters. With her friend Buttons and her Fairy Godmother to help her will she escape the drudgery and meet the man of her dreams? Get your tickets to find out! Cinderella has all the usual panto magic ingredients – a pair of dames, a villain, a fairy, a love story, singing, dancing, comedy and a happy ending.
There is a large free car park right behind the Lyric Theatre and another a little further along Laughton Road. There is also free on street parking outside the theatre for the evening/­Sunday shows.
There are nine performances to choose from:
Saturday 22 January 12.15pm and 5.15pm;
Sunday 23 January 2.15pm;
Tuesday 25 to Friday 28 January 7.15pm;
Saturday 29 January 2.15pm and 7.15pm
NB The performance on Tuesday 25 January is a disability-friendly relaxed performance, permitting noise and movement in the auditorium. Tickets for this performance only are £7.50 for HASSRA Sheffield/SY CSSC members and £5 for members of both. Non-member tickets are £10.
For all other performances tickets are £9 for HASSRA Sheffield/SY CSSC members and £6 for members of both. The discounts will also apply to up to 2 children per member. Non-member tickets are £12.
Please email Joanne Thornewell on thornewell1234@gmail.com to book your seats stating member names/­membership numbers and the date and time of the performance you require.
Closing date is 9 January 2022.