Haven 2022 - Primrose Valley
Friday 16th September to Monday 19th September 2022
Building on the success of this year's trip, HASSRA Yorkshire and Humberside are pleased to offer a 3 night break at Haven Primrose Valley between Friday 16th to Monday 19th September 2022. Whilst prices have increased we are still able to offer fantastic discounted breaks for our members with some grades of Caravans receiving 72% discount.
Prices are booked on a 'Stay and Play' basis and include enter­ta­inment passes, all bed linen with some grade of caravans (Platinum) also including towels. Taking on board feedback from previous years we have managed to secure a number of dog friendly vans and also a limited amount of accessible caravans.­
The discount works as follows:
One member = £75 discount
Two members = capped at 50% of the overall cost up to a maximum discount of £150
The closing date for applications is Friday 26th November.
To be eligible for the offer you must be a current member and have activated your HASSRA Live account. To activate your HASSRA Live account if not done so already please visit: www.­hassra.­org.­uk/­live. If you know of any non members who could be a member and who would want to take advantage of this deal why not get them to join? Details on how to join are here - https://­www.­hassra.­org.­uk/­register
By placing an order you are committing to paying a £60 deposit if allocated either your 1st or 2nd choice of caravan. As always we ask you to pick a 1st and 2nd choice preference. We do all we can to allocate people the 1st choice but do sometimes have to offer either your 2nd choice or an alternative. The deposit of £60 will be due by the end of December 2021. To help spread the cost there will be an option of paying monthly. Further details will be sent when confirmation of caravans is given.
Prices for 2022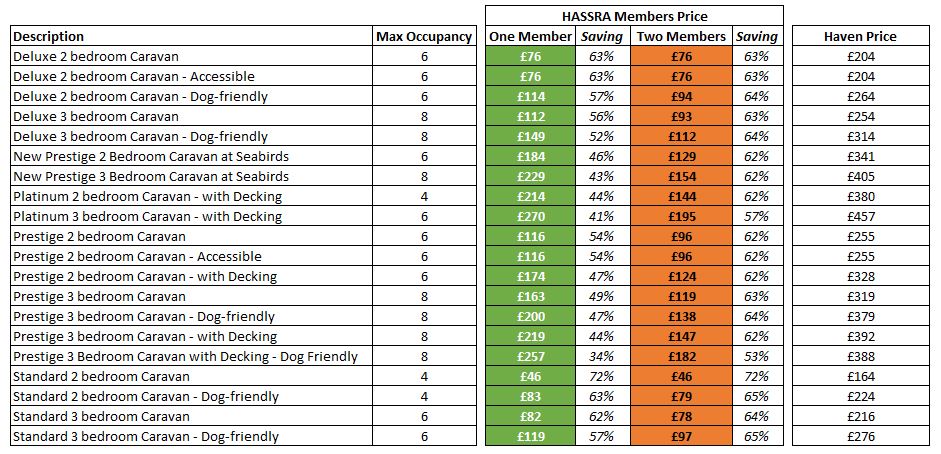 To book a place on this fantastic trip please complete the information in the following link - https://­www.­smartsurvey.­co.­uk/­s/­SMYV1N/
Important information
The member (or both where applicable) must be a *full HASSRA member and be staying in the caravan. We will undertake checks and anyone purposely supplying membership details of another member to secure a greater discount will see their membership cancelled and disciplinary action instigated.
*Note: Associate members of local HASSRA clubs are not full HASSRA members and therefore are not eligible for the discount