HDF Stories
Fighting Fit
Keira O'Brien, HASSRA Wales wanted help improving her overall fitness.
2 years ago I signed up to a 26 week programme at a local gym. Attending the first class was hard, I was nervous and lacking self-confidence.
At first, I made small changes to my diet, seeing a difference I realised I could make more changes. I then started to have personal training sessions, twice a week.
Then COVID hit, at first this was hard as my weekly routine, my time from work and being a mother was taken away. I made sure I still set myself time to attend virtual sessions and signed up to all the challenges, one being a virtual Iron man.
Returning to the gym was amazing, a little normality!
I was asked to participate in a National Fitness Competition in a team of 4. Training was hard but I was determined to do my best. Our team were 8th, amazing day.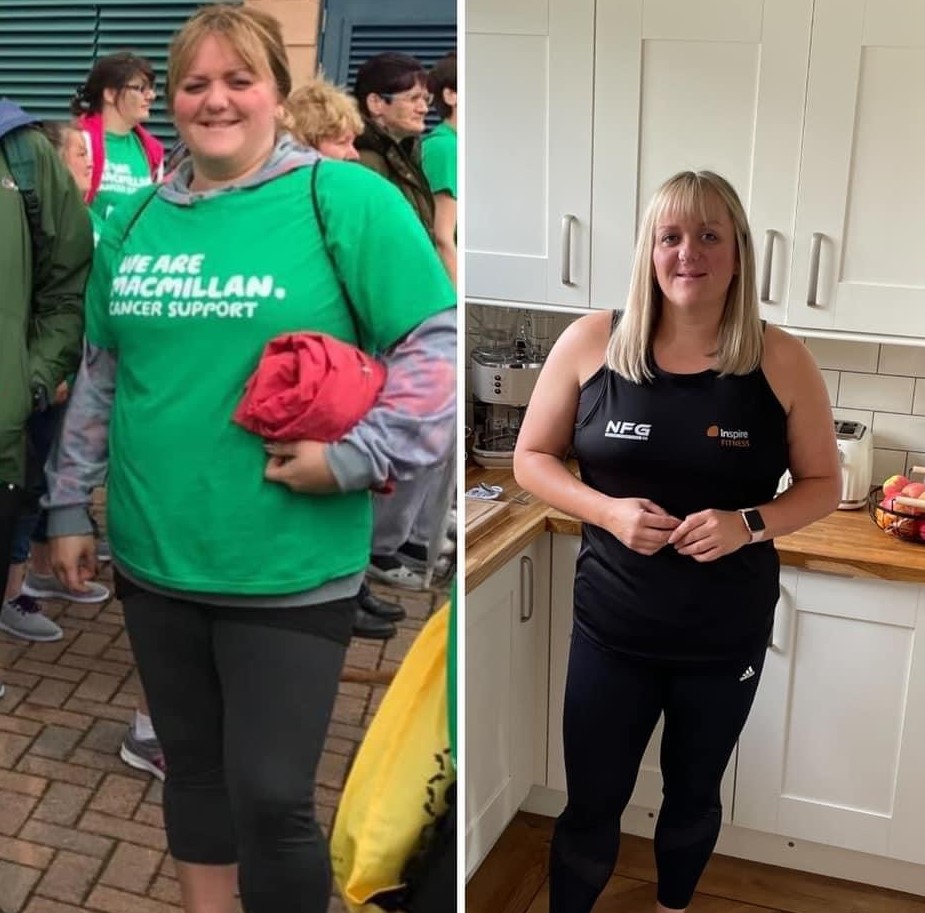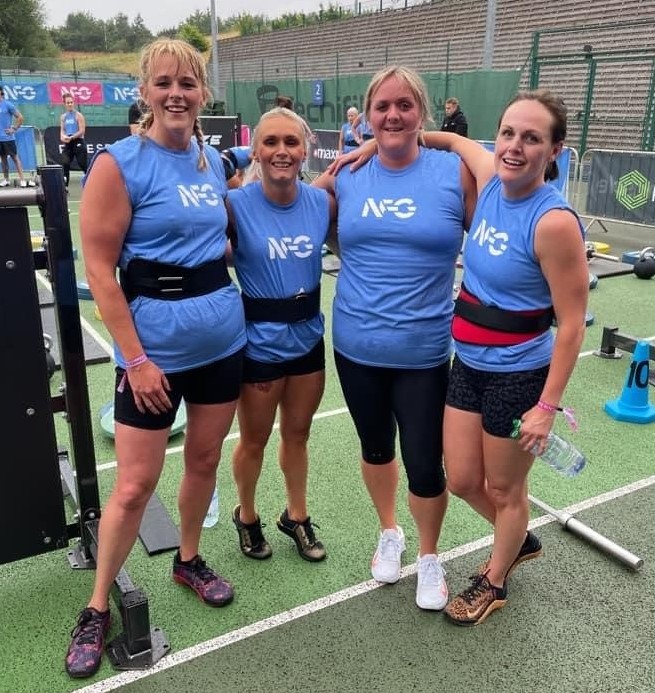 Keep on Running
Sean Wright, HASSRA North East tells us, Running is a big part of my life.
I do it competitively, for fun and good causes. I've completed road races, trail runs and even the odd obstacle course.
Before Covid, I was training for the Edinburgh marathon to raise money for Thomas Bewick School, a specialist provision for children with autism, and although my heart was in it unfortunately my legs were not.
I have always had problems with injuries. However, not until I increased my mileage had it become such a constant problem, restricting my ability to stay on track with my training.
After exhausting several options to remedy the issue, I was unsure if I would be able to continue with the training.
With financial support from the HDF, I underwent a biomechanical assessment which identified that my foot strike was supinated - rolling to the outside when walking or running.
I was then able to take steps to correct the problem which might have not been possible without the help from the Fund. Although the marathon has been postponed because of Covid, I have been able to continue training with far less injuries.
While it is unclear if the marathon will go ahead this year, I am still very grateful for the help and support of the HDF.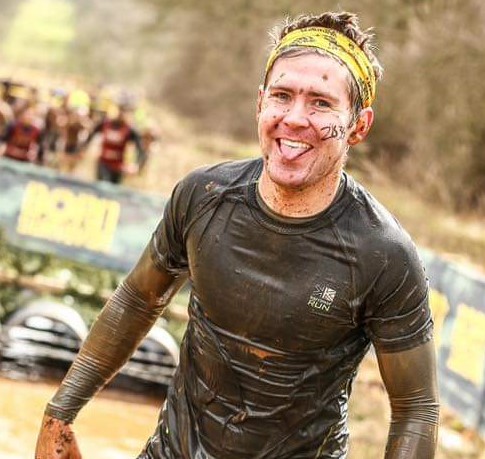 Iron Man in Action
Jonathan Hatfield, HASSRA Wales applied to the fund for help with his Iron Man endeavours, read how this year's training has gone so far.
"I am the grateful recipient of a HASSRA funding award which I put to very good use earlier in the year to purchase my race wheels for my road bike.
The reason why I needed the wheels was to help me train for and compete in "Iron man Wales" which was due to take place in Tenby on the 9th of September 2020. The event involves a sea swim off North beach Tenby of 3.8km, a 180km bike ride around Pembrokeshire (hence the need for race wheels) followed by a Marathon around Tenby town centre ……all within 16hrs!!
Unfortunately, due to Covid the event has been postponed until September 2021 so I have been busy investing all of my spare time in training for the event. Hopefully the extra training will make it a little easier for me to achieve my target time of 13 hours when I eventually & hopefully get to participate next year!
I have included some pictures of me training and more importantly, some cracking photos of my new wheels which make the long rides a lot easier thanks to Hassra!!!!"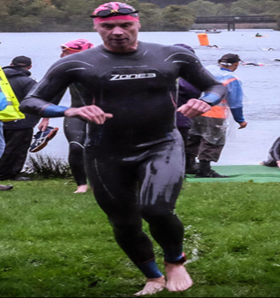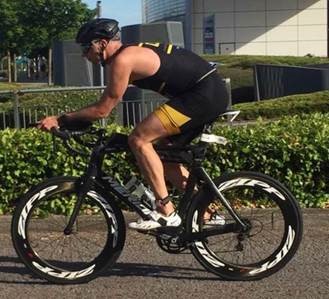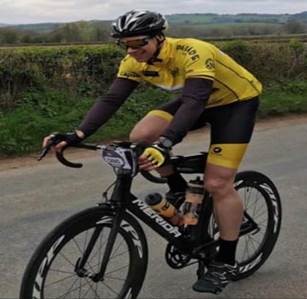 Keep on Rowing
Wyn Griffiths, HASSRA Wales applied for help to become an indoor rowing coach to help coach older members, and others at his local Community Gym. Here is his story alongside one of those he's helped during lockdown.
"I have used the award to purchase a Certified Indoor Rowing Instructor course. Due to the present Covid-19 situation the method of delivery is slightly different in that I won't be able to attend a face to face coaching day. Instead, this will be delivered by two half day Zoom sessions this October.
I have been sent an Instructor Handbook and plenty of pre-coaching day videos to study which I have already started and put to use by supporting my local social enterprise community gym – The Holyhead and Anglesey Weightlifting and Fitness Centre(HAWFC) – by coaching and encouraging more of the elderly members to take up Indoor Rowing as a complement to any programmes that the paid staff have set up for them.
One particular example is Jim who is 71yrs of age and was one of the Directors of a "partner" organisation to Holyhead Jobcentre. Due to lockdown requirements, Jim and myself were deemed vulnerable and required to stay at home. Jim is retired and I am working from home. Before HAWFC closed, they offered a loan of equipment to members. Jim and I signed out a Concept2 rowing machine to use during lockdown.
Twitter and WhatsApp were used to communicate. I would set him workouts and challenges of varying intensity that would help with his continued weight loss and improvement of his rowing technique and endurance. Concept2 also have challenges and I would like to think that I influenced Jim to take part in those challenges.
One particular challenge, the Dog Days of Summer, required rowing during the month of August, 10,00metres in week 1, 20,000metres in week 2, 30,000metres in week 3 and 40,000metres in week 4 giving a total of 100,000metres to complete the challenge. Jim surpassed this by completing 225,­000metres(the photo of the certificate only shows the minimum amount required to complete the challenge)in August, not bad for a man advised to lose weight to improve his health and lifestyle after 6 heart bi-passes, 2 x femoral bi-passes, an Aortic Graft and Lipomatosis.
His weight loss(admittedly, not all my doing) is evident from the "trousers" photo. The other photo is him proudly wearing his 1,000,000 metre milestone tee shirt. He regularly thanks me and refers to me as his "rowing Guru" on his Twitter posts which is a nice compliment but I keep telling him that he doesn't need to thank me because I get pleasure in seeing the improvements to his health and wellbeing. He has gone on to influence and encourage other over 60yr olds to join the "NiftySixties" group by selling his "success story".
Personally my aim is to qualify in October and either way (pass or fail) I should become a better indoor rower myself and continue volunteering to teach others how to row correctly. I did not receive any coaching myself and did have "bad habits" which took a while to address when I started out, so hopefully new members will not have to go through that!"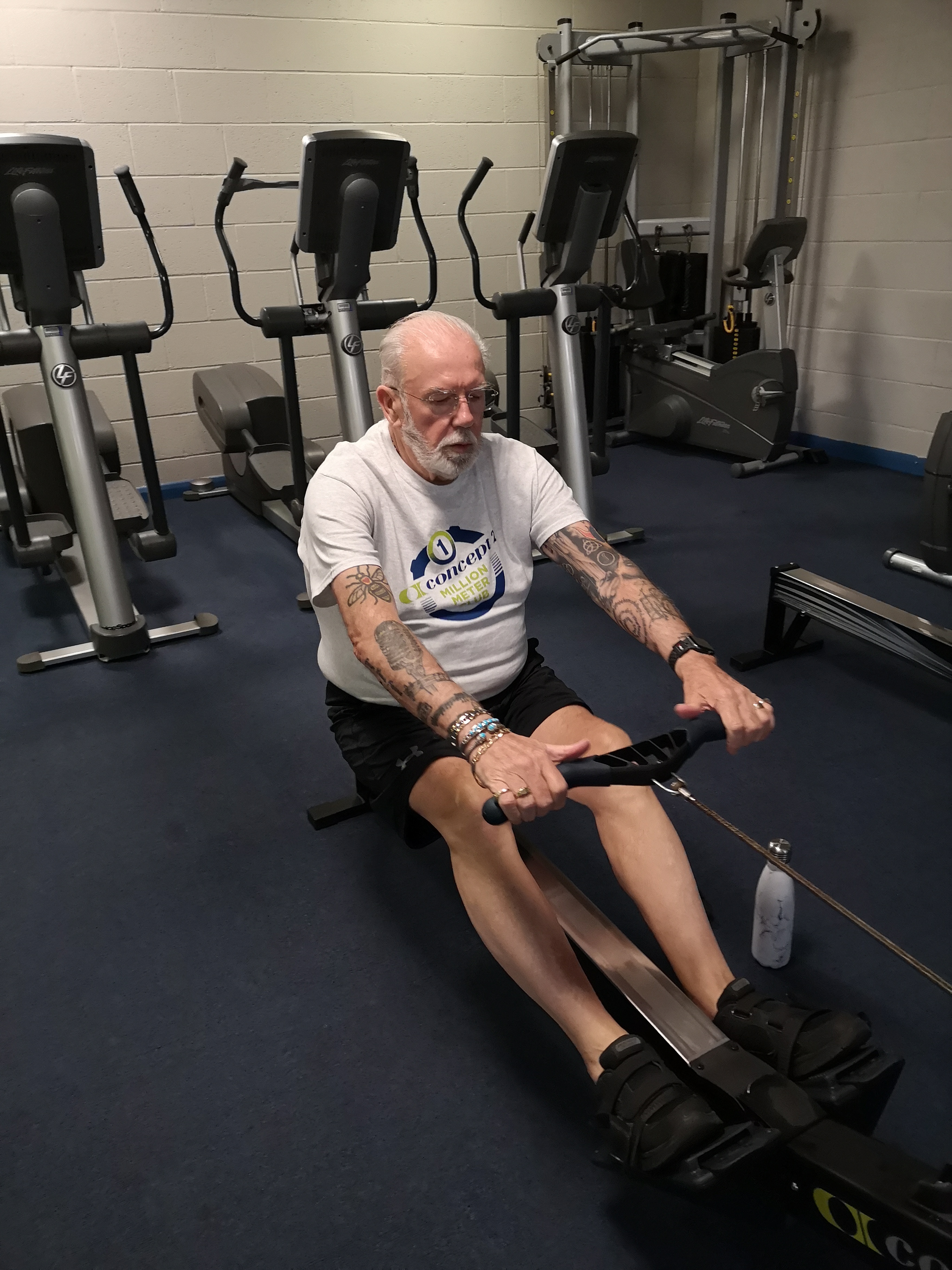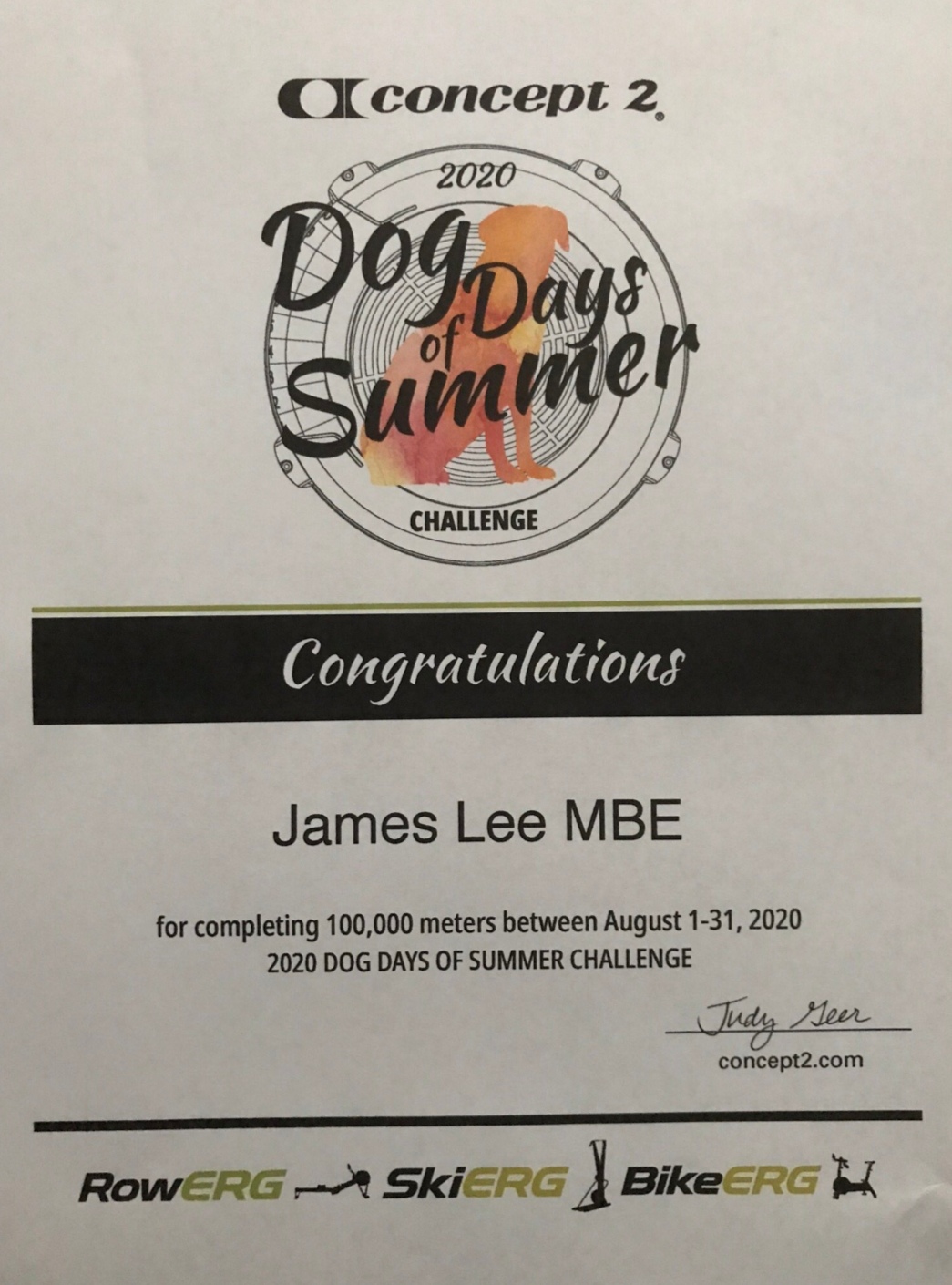 Silver Success for Sheila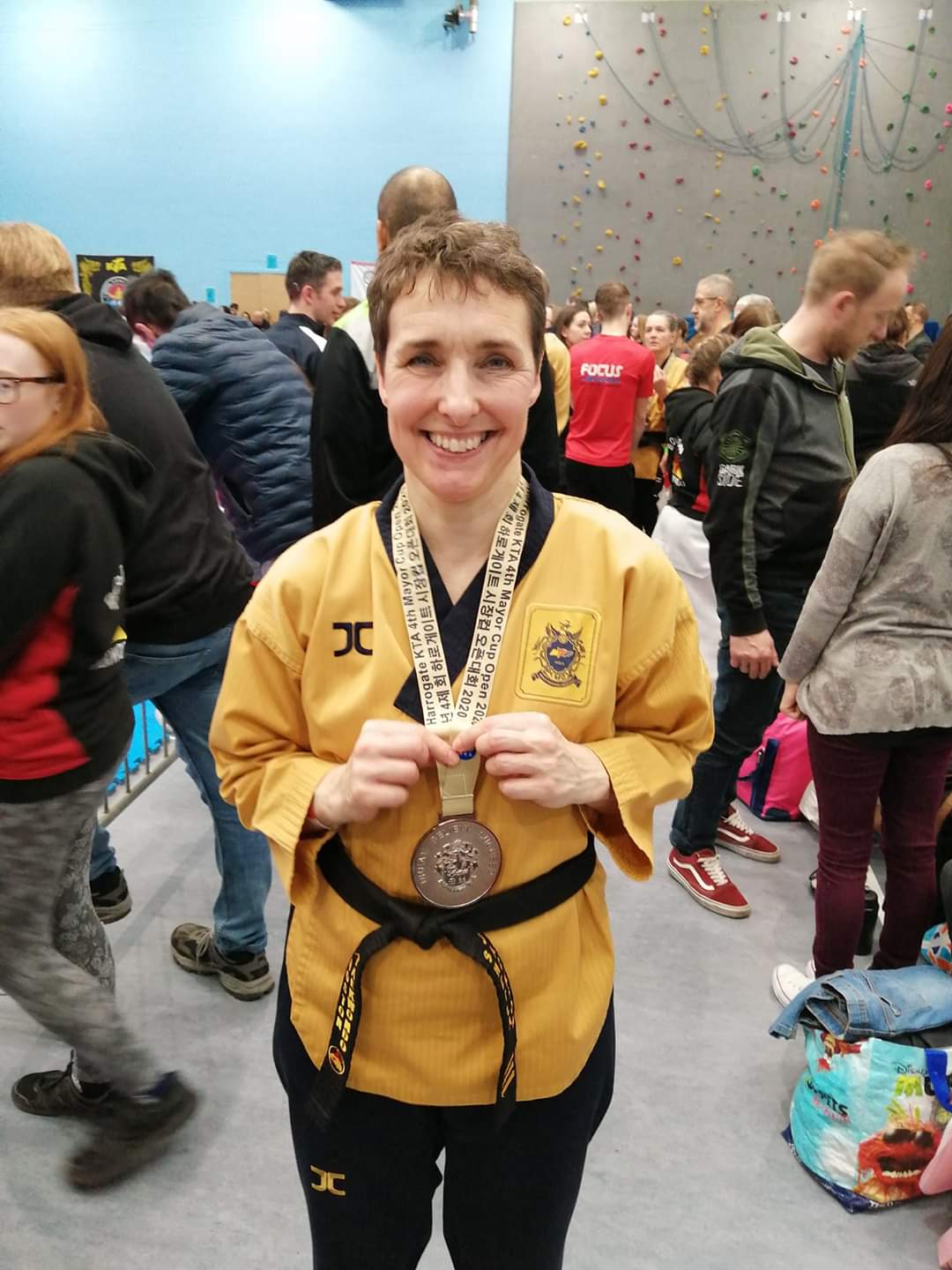 Shelia Jackson, HASSRA East Midlands applied to the fund for help towards her ongoing Taekwondo Poomsae endeavours – read below how 2020 has gone so far including a move to the virtual world due to the current restrictions.
"On 25th January, I entered the GB Open Poomsae 2020 Championship held in London. This is an International event, with competitors mainly from Europe. I was quite pleased with my result, coming 6th out of 8 in the Dan Under 60 female category, with Germany taking 3 out of the top 4 positions. I also achieved my highest competition score so far.
2nd February, I went to the Team GB Squad training (Taekwondo Poomsae). This means driving to Manchester, spending up to 5 hours in the training hall and driving home - a long day, as Manchester is 130 miles from home in Boston, Lincs.
29th February, another Team GB Squad training session in Manchester but this included play offs for the 2020 World Poomsae Championship selection, which was due to be held in Denmark in May. Unfortunately, I was not successful in the selection that time.
On 8th March, I went to a Taekwondo Poomsae Competition which was held in Harrogate. This was open to all UK club members and I entered as Dan Under 60 Female. I was asked by two women I had never met to join them and make up a team of three for the Dan 31+ Female group. So, on the day we found each other we spent up to an hour practising to try and do our patterns (Poomsae) synchronised. In both events I achieved Silver medals coming 2nd place to other team GB squad members, the photo shows me with one of the medals on the day.
I should have then gone to Squad training on March 15th, but due to Covid-19 break-out it was cancelled. There have been no more squad training sessions, and many competitions I would have entered this year have also been cancelled or postponed.
I normally train twice a week with my local club in Boston, but again that has not been possible since March. Instead, my local club instructors have been doing live training sessions using Zoom nearly every day to help us maintain our fitness and techniques. So, my kitchen is currently my training hall!
We managed to get back to training in the gym hall twice a week from August, but the training is limited as no contact allowed and the capacity restricted in the hall. This is actually to my advantage as it means we spend more time on techniques and Poomsae, with little or no time on sparring work or self-defence. Our main instructor has also now returned to work, our Zoom sessions reducing as a result.
The competition I have recently entered was UK's very first Virtual Open Poomsae Competition run by Range Sports Ltd. For this I had to record a video of my performances and upload to You Tube within time deadlines, for live streaming at the weekend.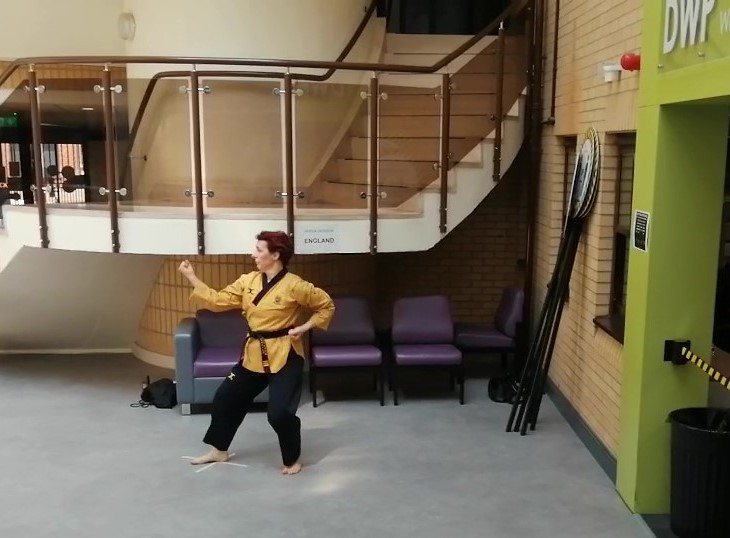 My first problem was finding a suitable location for the filming, and I found the best space was in the foyer of our council buildings just outside the Jobcentre entrance. This would have been perfect, except a few days before filming, council employees commandeered the space for their Social Distancing Ambassadors.
I did manage to work around them and do some trial videos there - the photo is from one of the videos and on the right is the DWP sign for the Jobcentre. In the end I decided my back garden was less stressful (and more scenic!).
Anyway, I achieved 7th out of 9 in the competition, beaten by an Australian, 2 Danish, an Austrian, an Italian and one English lady. I'm quite happy with that result, but know where I need to improve and focus on for future competitions.
Obviously, it has been a difficult year for all sporting events and training. The virtual world is good but not the same of course as competing face to face, here's hoping for a return soon."
A Winning Racket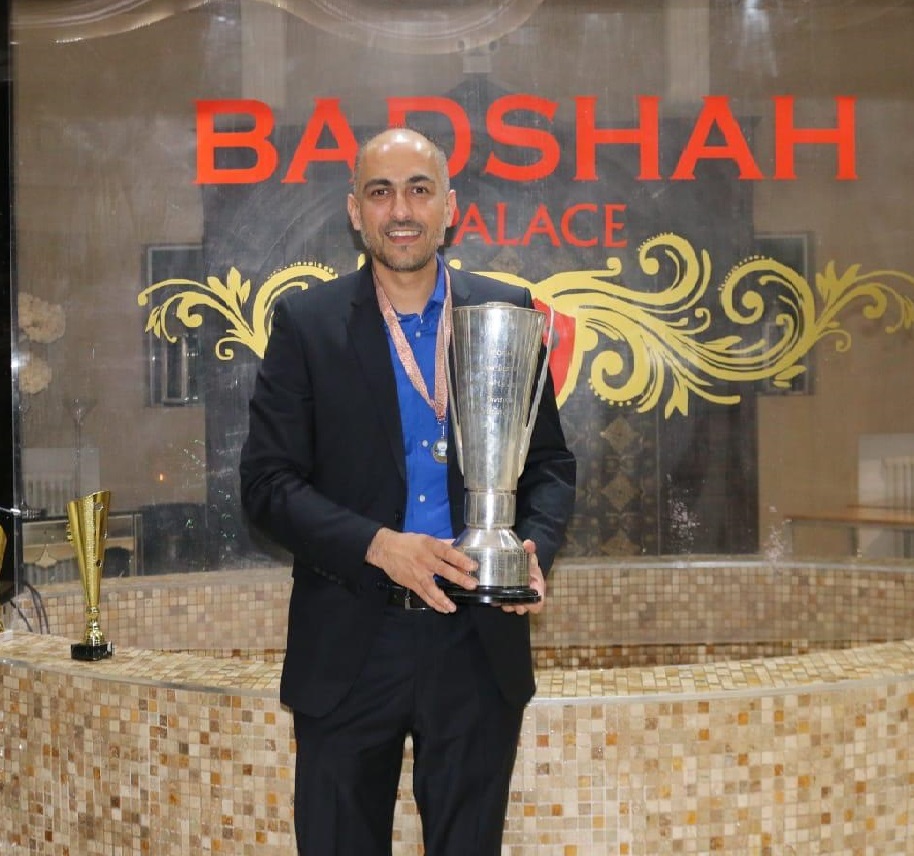 Imran Bashir, HASSRA West Midlands, tells us:
"With the English National Masters Badminton Championship in my sights for December, I tentatively started penning my achievements and aspirations for the HASSRA Development Scheme application in May.
Not only was it generous award from HASSRA but it took less than 48hrs to get a reply! Since receiving the funding I have competed in eight tournaments so far, with at least another eight to play before the season ends in April.
My initial tournament was in Aug 2018. My partner and I were a bit nervous but we needn't have been. We sailed through to the final, narrowly losing out due to an injury.
Subsequent tournaments in Cheshire, Gloucester and Worcester resulted in worthy QF, SF and Final placings respectively.
I also won the Kashmir Orphan Relief Trust title with my partner, where we also aimed to raise £480 to sponsor one orphan for a year. Remarkably, along with colleagues, we raised £2,500 and actually sponsored five orphans. This was an absolute outstanding achievement for everyone involved.
I was also fortunate to partner a former Pakistan National player, Faheem Taj, to win the prestigious annual Birmingham Heartlands Charity Tournament, which helps the deaf, dumb and blind in Kashmir, raising over £1,000 for the cause.
The Scheme's funding has enabled me to learn new methods of training and coaching which I have shared these with my team, inspiring the younger generation to train harder and take more care of their health and fitness. We are currently top of the table also and look set to retain the title which we won for the first time last year.
I am the Regional HASSRA organiser for Badminton and reigning champion since 2012. I have also organised taster days for squash, badminton and table tennis with excellent guidance from the HASSRA team, something I would also strongly encourage others to do.
My ultimate aim is to represent England in the Masters and, having massively improved in the rankings, I am hopeful that my hard work will pay off.
I look forward to sharing my experiences from the World Championships in August to inspire others in never giving up on their dreams."
Remember, the Development Fund is open to all our HASSRA members who meet the criteria as outlined in the HASSRA Development Fund Booklet (click the following link for an accessibe version of the HDF form).
So why not apply – we'd love to see your stories published in the future!