HDF News
A Winning Racket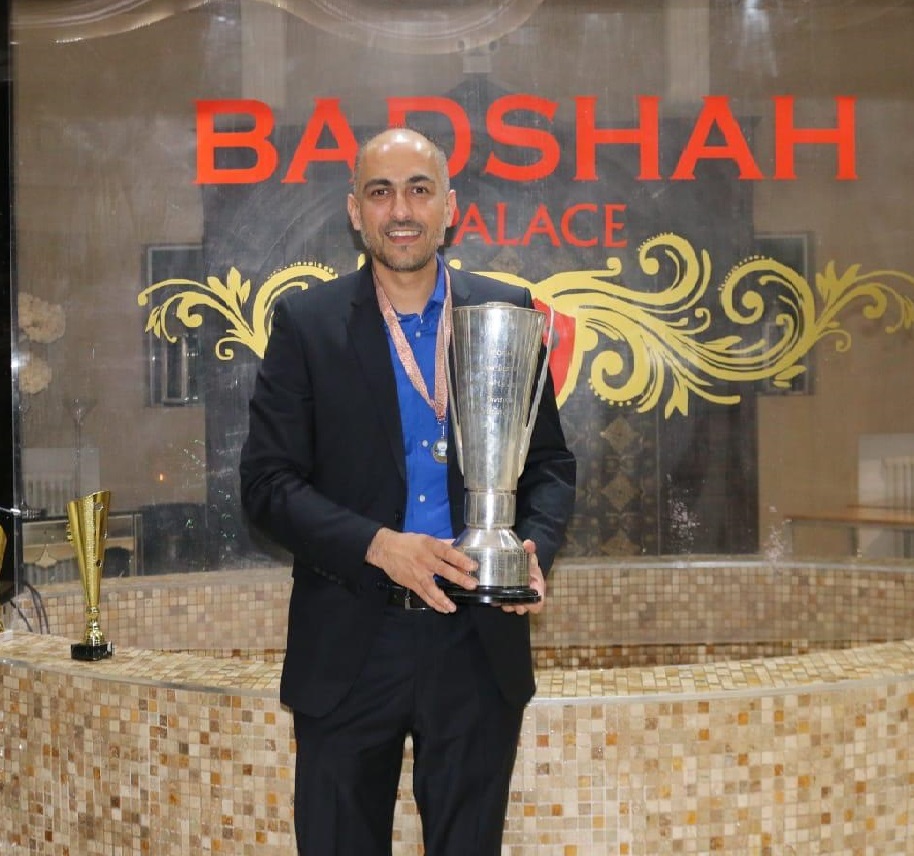 Imran Bashir, HASSRA West Midlands, tells us:
"With the English National Masters Badminton Championship in my sights for December, I tentatively started penning my achievements and aspirations for the HASSRA Development Scheme application in May.
Not only was it generous award from HASSRA but it took less than 48hrs to get a reply! Since receiving the funding I have competed in eight tournaments so far, with at least another eight to play before the season ends in April.
My initial tournament was in Aug 2018. My partner and I were a bit nervous but we needn't have been. We sailed through to the final, narrowly losing out due to an injury.
Subsequent tournaments in Cheshire, Gloucester and Worcester resulted in worthy QF, SF and Final placings respec­tively.
I also won the Kashmir Orphan Relief Trust title with my partner, where we also aimed to raise £480 to sponsor one orphan for a year. Remarkably, along with colleagues, we raised £2,500 and actually sponsored five orphans. This was an absolute outstanding achievement for everyone involved.
I was also fortunate to partner a former Pakistan National player, Faheem Taj, to win the prestigious annual Birmingham Heartlands Charity Tournament, which helps the deaf, dumb and blind in Kashmir, raising over £1,000 for the cause.
The Scheme's funding has enabled me to learn new methods of training and coaching which I have shared these with my team, inspiring the younger generation to train harder and take more care of their health and fitness. We are currently top of the table also and look set to retain the title which we won for the first time last year.
I am the Regional HASSRA organiser for Badminton and reigning champion since 2012. I have also organised taster days for squash, badminton and table tennis with excellent guidance from the HASSRA team, something I would also strongly encourage others to do.
My ultimate aim is to represent England in the Masters and, having massively improved in the rankings, I am hopeful that my hard work will pay off.
I look forward to sharing my experiences from the World Champi­on­ships in August to inspire others in never giving up on their dreams."
----------------------------------------------------------------------------------------------------------------
Silver Success in Germany

Lisa Prince (2nd left), also from the West Midlands applied to the scheme for help towards her ongoing involvement as coach of The England Masters Over 50's Hockey squad. The team recently competed in the European Cup in Germany. They demolished the opposition in the group stages, scoring 20 goals in the process. Their first game was a 13-0 victory against Italy, followed by a 3-0 win against the Dutch and a 4-1 victory against Wales. 3 out of 3 in the group stages and onto the quarter finals, where they put 13 goals away against France. The semi-final was a tighter affair against Scotland, but they came away with a comfortable 3-0 win.
The team faced the Netherlands in the final, who they had beaten in the group stages. Unfor­tunately the Dutch scored two goals in the last 8 minutes, leaving England to take the silver medal. Lisa and the team were disappointed not to bring home gold, but they played brilliant hockey and scored 36 goals across their 6 matches and had 4 of the top goal scorers.
Remember, the Development Fund is open to all our HASSRA members who meet the criteria as outlined in the HASSRA Development Fund Booklet, so why not apply – we'd love to see your stories published in the future!