Liverpool 2021

HASSRA Scotland have negotiated a great deal with ITO Tours UK to offer members a 3 day/2 night shopping trip to Liverpool.
The offer is for the weekend of the 3rd to 5th of December 2021, and includes;
Executive Coach to & from Liverpool
Two nights' accom­moda­tion at the centrally located Staycity Aparthotel Liverpool Waterfront
Studio Apartment based on 2 people sharing
Breakfasts
Free Time in Liverpool to explore, see the sight, shop - it's up to you!
Tickets are just £179 per person (£100 single person supplement).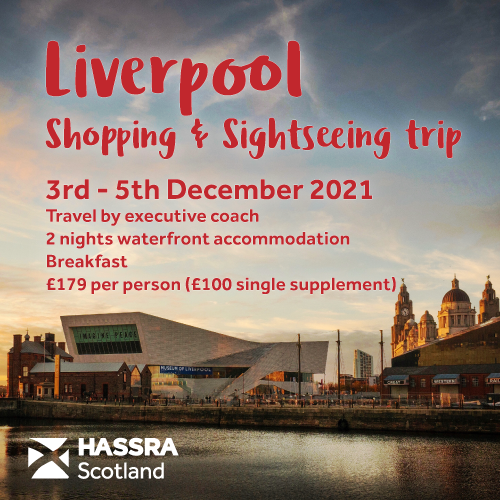 How to book
All enquiries and bookings should be sent to Jacky Sneddon by 5pm on Thursday 15th July 2021 Friday 30th July 2021 – please include your name and membership number in subject line. a £50 per person deposit is required to secure your booking.
Fore more details, please see the brochure listing.
For more information on HASSRA Scotland compe­titions, just email the HASSRA Scotland mailbox