Madagascar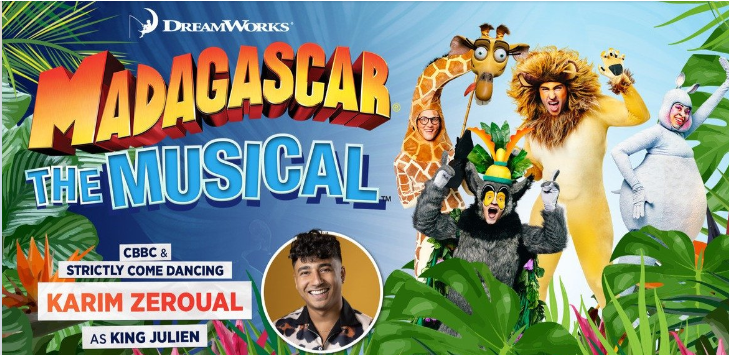 Thursday 23 May 2024 2pm
Based on the smash DreamWorks animated motion picture, Madagascar – The Musical follows all of your favourite crack-a-lackin' friends as they escape from their home in New York's Central Park Zoo and find themselves on an unexpected journey to the madcap world of King Julien's Madagascar.
Alex the lion is the king of the urban jungle, the main attraction at New York's Central Park Zoo. He and his best friends – Marty the zebra, Melman the giraffe and Gloria the hippo – have spent their whole lives in blissful captivity before an admiring public and with regular meals provided for them. Not content to leave well enough alone, Marty lets his curiosity get the better of him and makes his escape – with the help of some prodigious penguins – to explore the world.
Join Alex the Lion, Marty the Zebra, Melman the Giraffe, Gloria the hip hip Hippo and those hilarious, plotting penguins as they bound onto stage in the musical adventure of a lifetime. Filled with outlandish characters, adventure galore
£30 for HASSRA Sheffield and Rotherham members
£16 for members of both HASSRA S&R and CSSC
£30 HASSRA Member's Child
£16 CSSC and HASSRA Member's Child
40 for non members
Only one child ticket may be purchased at the discounted price. Additional tickets may be purchased at Non Member price
Closing date for tickets - Friday 19th January
How to book
Due to this event being organised by CSSC colleagues, all bookings must be made through their CSSC website.
Please click on this link https://­events.­cssc.­co.­uk/­events/­56852 to book your place. You can use the 'guest' booking.
Please follow the booking process from there onwards, payments are required during the booking process