The Wedding Singer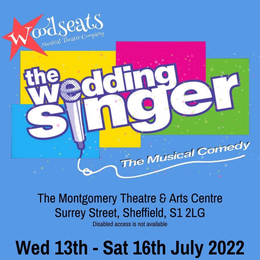 The Wedding Singer at the Montgomery Theatre, Sheffield – brought to you by Woodseats Theatre Company
Tickets availble for Wednesday 13 to Saturday 16 July - 7.30pm Showings
The Woodseats Musical Theatre Company production runs at Sheffield's Montgomery Theatre and is directed by Ian Walker, with musical direction by Dominic Ridler and choreography by Lily Abram and Amber Parry.
"It's full of fantastic music plus vibrant, energetic dance routines and it takes us back to a time when hair was big, collars were up and a wedding singer could be the coolest guy in the room.
"The Wedding Singer's sparkling score does for the '80s what Hairspray did for the '60s and is such a great feel-good production, which is what we all need at the moment!"
Based on the film with the same name, The Wedding Singer is set in 1985 and is full of fantastic music, vibrant and energetic dance routines and also very funny!
You will meet Robbie the lead singer of a wedding band who is always in good spirits until his fiancé jilts him at his own wedding, will he recover? Wait and see what happens when he meets the lovely Julia…..
Tickets prices
£11 for HASSRA Sheffield members
£15 for Non-member
For more information and bookings please contact - Mandy Holt - AMANDA.HOLT@DWP.GOV.UK
Clsoing date for tickets - Friday 1 July 2022