Lottery
We are celebrating 40 years of the fabulous HASSRA Lottery by giving you the chance to win double money in the October prize draw.
A massive £30,000 jackpot is up for grabs, with £20,000 for the runner up and two £10,000 prizes.
120 guaranteed winners will share the huge prize pot of £126,000 – double the usual monthly total.
As a HASSRA member you can participate in the HASSRA Lottery from as little as £1 a month.
So if you're not already the HASSRA Lottery, join now and increase your chances of winning with up to 20 tickets per month.
You must apply by 31st August to be included in October's draw!
The regular prize fund is as follows:
a top prize of £15,000 (£30,000 in October's draw)
1 prize of £10,000 (£20,000 in October's draw)
2 prizes of £5,000 (£10,000 in October's draw)
10 prizes of £1,000 (£2,000 in October's draw)
11 prizes of £500 (£1,000 in October's draw)
30 prizes of £200 (£400 in October's draw)
65 prizes of £100 (£200 in October's draw)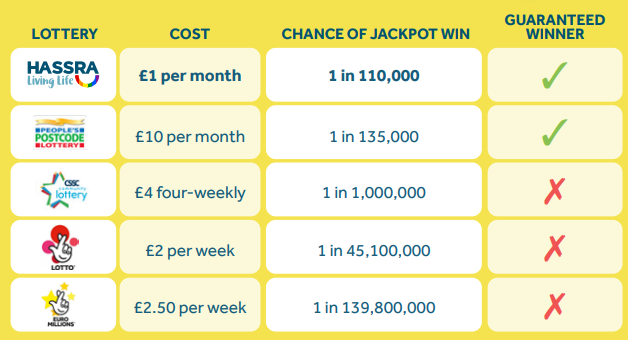 You can buy up to 20 tickets @ £1.00 each per month to increase your chances of winning.
Payment for lottery tickets is made by monthly deductions from pay or pension in the case of members whose payroll or pension provider makes deductions on behalf of HASSRA, or by monthly or annual payments in advance for members who pay by direct debit or debit/credit card.
The vast majority of the income generated from the Lottery is paid out in prizes. The balance is used to support other HASSRA activities.
Please note that members who pay annually by credit or debit card are able to join the HASSRA Lottery at outset or renewal of their annual membership. To do this you will need to complete the form on the HASSRA Membership page of HASSRA Live.
Remember: You have to be in it to win it!
Buy tickets