Hybadore Holiday Cottages
Hideaway at Hybadore, the perfect Cornish Retreat!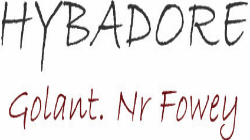 A hidden gem, in an area of outstanding natural beauty, these two beautifully refurbished cottages and coach house at Hybadore provide comfort and privacy.
The perfect place for a tranquil Cornish retreat where you can simply relax and reconnect with family and friends, enjoy your private garden, stroll in the five acre meadow with its views of the Fowey Valley, or wander down to the local pub and watch the boats sail on the river. Hybadore is also a perfect base from which to explore the many delights of Cornwall; the stunning coastal, countryside & moorland walks, quaint seaside villages, spectacular Cornish Gardens, many excellent golf courses, and of course the beaches.
Taste the local flavour at the nearby sailing town of Fowey, with its narrow winding streets, eclectic shops, and award winning restaurants.
Sleeping 4 people in Old Winery Cottage, 6 people in Meadow Cottage and up to 12 in the Hybadore Coach House we have something to suit everyone.
Please see website for more details – http://­www.­hybadore.­co.­uk/
As a HASSRA member you can have 10% discount off the normal prices.
For details of available dates, prices and to arrange a booking please phone 01726 832875 or email terry@hybadore.co.uk