The Bath Thermae Spa Offer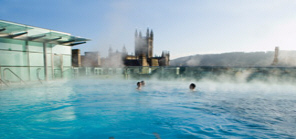 Hassra Members £15
Non-Members £36.00
Relax in two spectacular baths, fed by the natural thermal waters and refresh yourself in a series of aromatic steam rooms.
The Thermae Welcome (valid any day) includes a 2-hour spa session in the New Royal Bath along with use of towel, robe and slippers.
A 2-hour spa session includes access to the:
Open-air rooftop pool
Minerva Bath
Aroma steam rooms & waterfall shower
Springs Café Restaurant
https://­www.­thermaebathspa.­com
Please note: Members can only purchase one ticket for themselves and guests will have to pay non-member price.
To Order vouchers please email HASSRA.SOUTHWEST@DWP.GOV.UK with the following details:-
Name
Membership Number
Vouchers required
Home address for voucher to be sent