Scottish Owl Centre [Whitburn]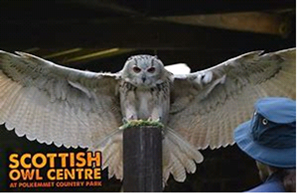 HASSRA Scotland have ONE Scottish Owl Centre Corporate Family Pass for use by members.
The card allows a family of four i.e. 2 Adults & 2 Children or 1 Adult & 3 Children free entry to the attraction.
For details of the Scottish Owl Centre please visit http://­www.­scottis­how­lcentre.­com/
Members wishing to borrow a card should apply by completing our application form.
You will be emailed a PDF Entry Voucher prior to the requested start date. If the card is not available for the date[s] you request, you will be notified immediately.
For enquiries please e-mail hassra.scotland@dwp.gov.uk