Dartmoor Lodges
Dartmoor Lodges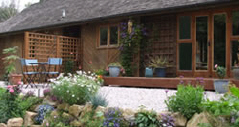 Situated within Dartmoor National Park in South Devon, Woodside is one of three unique adjoining lodges. Each offers a relaxing holiday in an idyllic setting of 10 acres of private ancient woodland with a rich variety of plants and wildlife.
Recently refurbished, the lodge offers comfortable accommodation for two people in this beautiful woodland setting. Complete with its natural stream and granite boulders, the woods and glades can be explored at your leisure.
See website for more details - Lodges
As a HASSRA member you can have 10% discount off the normal prices.
For details of available dates, prices and to arrange a booking please phone Pam Hyde on 01647 440794. (Available for bookings all year round).