HASSRA Scotland Dragon's Den

Invitation is extended to all HASSRA members to prepare a pitch for consideration by the HASSRA Dragons (a small team selected from each of the 5 sub-committees) The dragons den forms part of The Volunteers Event taking place on the Morning of Friday 20th March before the main AGM.
In the event there is a high volume of applications – a short list will be selected to attend the event.
The pitch is to put forward a new and innovative idea for a HASSRA Scotland Membership Benefit – or one off event – to the value of no more than £500.
The winner will be selected taking into account the following criteria;
Number of members likely to access this benefit
Innovation
Equality and Diversity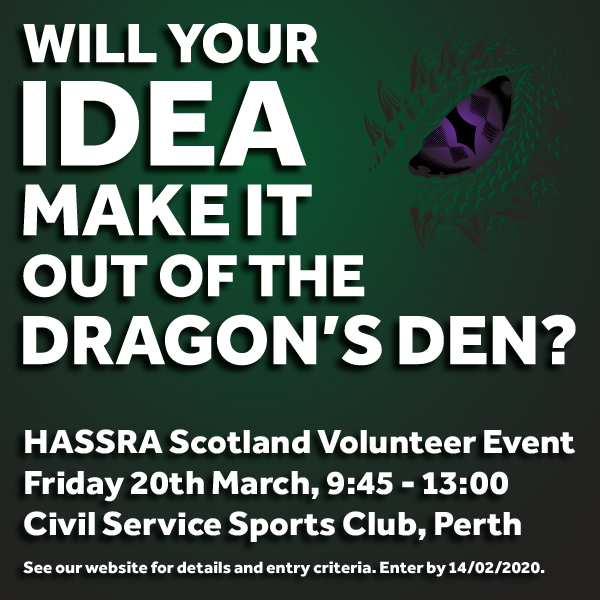 You will have 15 minutes to make your pitch and can use slides, visual aids etc if you wish – please bring relevant equipment to do this.
The panel will select a winner after all pitches have been heard.
You do not need to be a committee member – but you must be a HASSRA member. You can pitch as an individual or as part of a small team of not more than three.
Overnight accommodation may be approved for the evening of Thursday 19th March for those short-listed to present their pitch.
Entries with an outline of your pitch to be submitted to Jacky Sneddon by 14th February 2020.
If selected to attend – you are also cordially invited to stay for our AGM in the afternoon and our awards evening with dinner and dancing to our band. Overnight accommodation may be available on request for the evening of 20th March 2020 if you wish to attend.
So get your thinking caps on – someone will win on the day.
---
To submit a story, just email the HASSRA Scotland Webpage mailbox with details of what the story is about, and any photos you have.