South East Online SEView
HASSRA Eastbourne has been fundraising for charity for many years now but during covid had been unable to donate it. This left us at the start of this year with a very healthy, £900 to donate. During the AGM we asked for suggestions of local charities our members would like to support. Consideration was given to all suggestions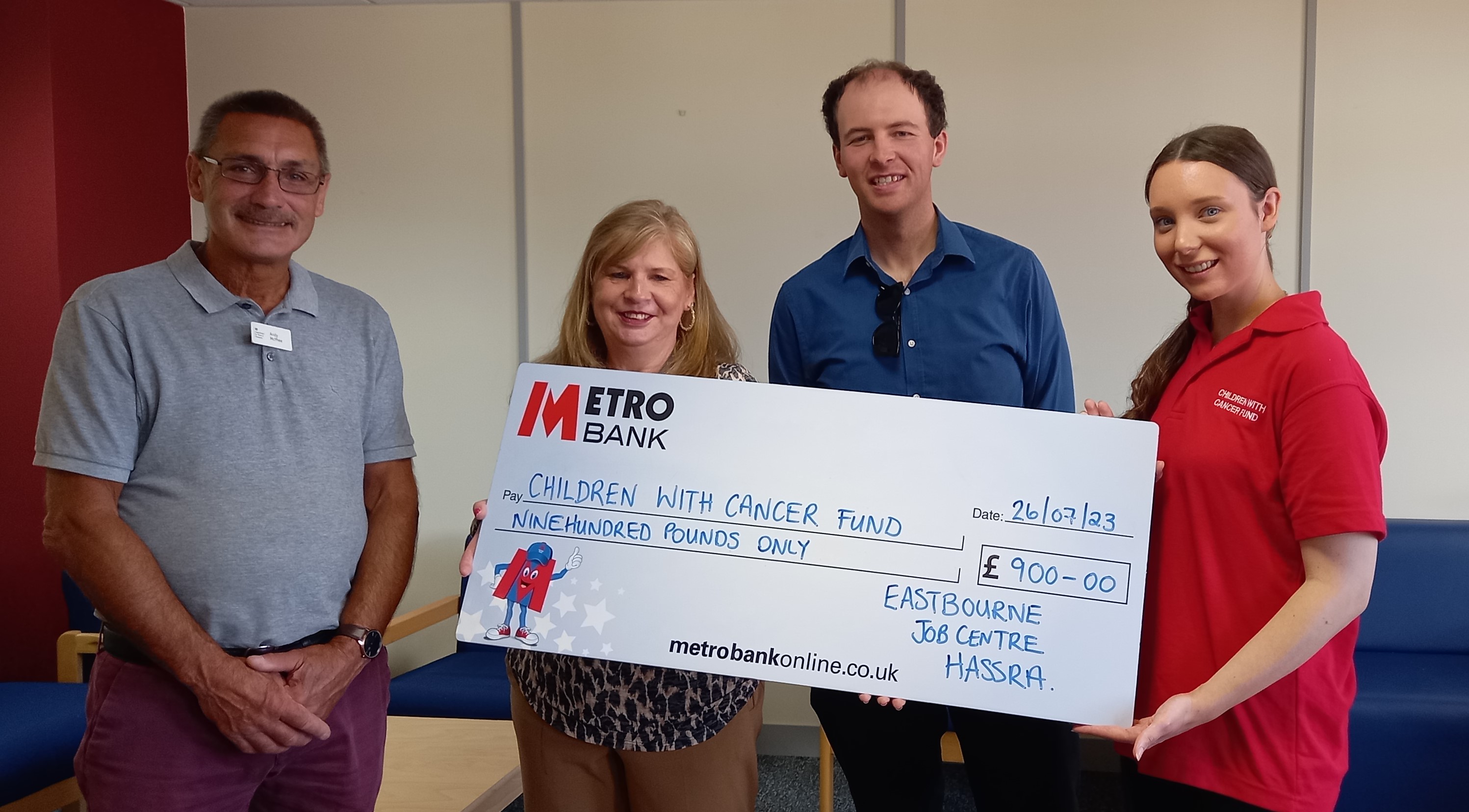 and we discussed splitting the amount between a number of charities or giving the full amount to just one.
The committee decided to give the full £900 to Children with Cancer Fund (Polegate), a charity which has also supported staff over the years.
We contacted them and arranged for their operations manager Chloe to come and collect the cheque during a coffee morning.
Staff came and supported us as we presented Chloe with the cheque. Chloe told us about the work they do supporting local families whose children have cancer. She explained they support the whole family, granting wishes, arranging outings and offering support from other families facing the same fight. The charity had recently celebrated their 25th Anniversary and have a Grand Ball planned for October this year. The money donated will be going to go towards this very special celebratory event for all the families they have supported over the years. Eastbourne Jobcentre staff love events which involve food so this is an event we all felt was a good use of the money.
HASSRA / GUEST

.

NAME
WEIGHT

.

NOTABLE SPECIES

POINTS
HASSRA
CHRIS P
274Ib 2oz
15
CLAUDE EVANS ROSE BOWL
NEW MATCH RECORD
HASSRA
BRIAN M
213Ib 12oz
CARP COMMON
9Ib 12oz
12
CLAUDE EVANS SHIELD
BEST FISH OF THE DAY
HASSRA
DAVID H
139Ib 14oz
10
HASSRA
ROBERT C

.

137Ib 12oz
9
HASSRA
ROY B
133Ib 8oz
8
HASSRA
MARK L
113Ib 12oz
7
HASSRA
COLIN B
83Ib 14oz
6
GUEST
SAM H
169Ib 6oz
GUEST TROPHY
GUEST
IAN G
112Ib 6oz
GUEST
IAN B
46Ib 12oz
---
Well, feast your eyes on what was a glorious day for South East's Brian, 2023 National Individual Champion.
Brian, together with Chris and Rob, also won the 2023 National Team Championship in what is believed to be a record for an overall team points total [5].
It must be mentioned that all three were expertly managed and coached by Roy B, who also acted as a bank runner, photographer, and lunch supplier!
Rob Coates - HASSRA South East Angling

HASSRA Festival: Coarse Angling "The National" 8th July 2023
Venue: Tunnel Barn Farm Fishery near Warwick
Lakes used: High Pool (2 sections), Jenny's Lake (1 section)
The victorious three man team of Brian, Chris and Rob fished really well and It was so close at the top between three Regions we didn't know who had won until it was announced after the match. HASSRA awarded them £20 each in shopping vouchers.
Brian and Rob fished the 5 hour match on High Pool and Chris was on Jenny's Lake in typical fishing weather of sunshine and showers. Roy as Team Manager was offering encouragement and advice to them where needed. Each angler puts in £10 as pools money to be divided amongst section winner and overall 1st, 2nd & 3rd.
Brian is our most experience "Nationals" angler. He fished a pole a few sections out in front of his keepnets with various baits on the hook but most successful was "paste" loose feeding over the top. He was catching steadily throughout the match and his final total weight was 133lb 3oz. He won £50 pools money.
Rob was a little nervous having not fish the "National" for 20 years but with encouragement and advice from the rest of the team fished a great match. He set up two quivertip method feeder rods with a mix of groundbait and soft pellets on the feeder and wafter pellets on the hook, he cast out to the island about 15 yards away. He weighed in 53lb 2oz and picked up £25 pools by default as the section winner.
Chris set up pole to fish at various distances and depths and caught a few carp, perch & skimmer in the first 2 hours then bites were hard to come by in the next hour. It picked up again especially in the last hour when he dropped his method feeder down the edge where he caught carp steadily. Anglers are allowed a maximum of 65lb in a keepenet, unfortunately Chris had too many in one net (an easy mistake to make) so a penalty is applied and only 60lb was counted, he had 9lb 9oz in his second net, giving a total of 69lb 9oz and second in section. Unluckily his true total weight would have put him in first place on the lake.
TUNNEL BARN FARM FISHERY
WARWICK
SATURDAY 8 JULY 2023
PEG
NAME
REGION
WEIGHT LB
WEIGHT OZ
POSITION
A2
DAVE
YORKS & HUMBER
23
2
8
A3
IAN
NORTH WEST
43
0
6
A5
KEN
NORTH EAST
39
9
7
A6
JOE
LONDON
49
7
5
A8
A12
GRAHAM
SCOTLAND
50
9
4
A14
FYLDE
A15
A17
PHIL
SOUTH WEST
112
11
1
2
A19
ROB
SOUTH EAST
53
2
2
SECTION WINNER
A21
EAST MIDLANDS
A23
PAUL
EAST OF ENGLAND
51
4
3
PEG
NAME
REGION
WEIGHT LB
WEIGHT OZ
POSITION
B25
ANDREW
YORKS & HUMBER
68
14
6
B27
KEVIN
NORTH WEST
15
3
9
B30
NIGEL
NORTH EAST
66
15
7
B32
GRAHAM
LONDON
49
7
8
B34
B38
GARY
SCOTLAND
110
10
2
3
B40
FYLDE
B42
B44
CHRIS
SOUTH WEST
80
7
4
B46
BRIAN
SOUTH EAST
133
3
1
1
B48
IAN
EAST MIDLANDS
75
2
5
B50
CHRIS
EAST OF ENGLAND
85
6
3
SECTION WINNER
PEG
NAME
REGION
WEIGHT LB
WEIGHT OZ
POSITION
C2
CRAIG
YORKS & HUMBER
73
5
1
SECTION WINNER
C4
ALAN
NORTH WEST
30
5
8
C6
RICHARD
NORTH EAST
50
14
7
C8
IAN
LONDON
56
13
5
C11
C13
MICK
SCOTLAND
65
13
3
C15
CRAIG
FYLDE
53
13
6
C17
C19
RON
SOUTH WEST
60
13
4
C21
CHRIS
SOUTH EAST
69
9
2
C24
PHIL
EAST MIDLANDS
14
2
10
C26
PETE
EAST OF ENGLAND
25
8
9
POSITION
NAME
REGION
WEIGHT LB
WEIGHT OZ
1st
BRIAN
SOUTH EAST
133
3
2nd
PHIL
SOUTH WEST
112
11
3rd
GARY
SCOTLAND
110
10
SECTION
NAME
REGION
WEIGHT LB
WEIGHT OZ
A
ROB
SOUTH EAST
53
2
DEFAULT
B
CHRIS
EAST OF ENGLAND
85
6
2 X DEFAULT
C
CRAIG
YORKS & HUMBER
73
5
POSITION
REGION
POINTS
WEIGHT LB
WEIGHT OZ
L,AST YEAR
1
SOUTH EAST
5
255
14
4
2
SOUTH WEST
9
253
15
2
3
SCOTLAND
9
227
0
3
4
EAST OF ENGLAND
15
167
2
5
5
YORKS & HUMBER
15
164
11
1
6
LONDON
18
7
7
NORTH EAST
21
6
8
NORTH WEST
23
11
9
EAST MIDLANDS
27
12
10
FYLDE
30
8
11
WALES
DNF
12
WEST MIDLANDS
DNF
Club
Number People

.

Kms
Amount raised for charity
Gatwick Diamond

.

27
3686.9
£800.00
Worthing
19
2819.4
£600.00
S'outhampton
14
2530.7
£550.00
Margate
8
1780
£375.00
Hastings
8
1169.2
£250.00
Brighton
4
898.3
£200.00
Fareham
8
627
£150.00
F'stone
2
368
£100.00
Dover BC
1
208
£50.00
Tonbridge
1
142
£50.00
Final Results in order
NAME
CLUB
Age if under 16

.

Total Kms done
GOLD
Mick ALLEN
Brighton
468.5
Matthew STORM
Worthing
338
Paul NUNNS
Gatwick Diamond
322.9
Eddie LAMBERT
Worthing
312
Emily FORD
Southampton
306.2
Wendy BRENT
Southampton
304.8
Kasey HADLEY
Margate
12
212
Violet NUNNS
Gatwick Diamond
12
168.9
SILVER
Caroline NUNNS
Gatwick Diamond
283.5
Nuala SMYTH
Worthing
283
Jamie BROWN
Margate
281
Christine ALLEN
Brighton
274.7
Katy
Gatwick Diamond
270
Mark STUKINGS
Southampton
262.2
Kerrie NICHOL
Margate
260
Dave
Gatwick Diamond
255
Natalie HADLEY
Margate
251
Mark DICKSON
Worthing
250
Jilliane PICKARD
Southampton
241.8
Ryan TAYLOR
Worthing
235
H.
Folkestone
229
Sarah D'AUVERGNE
Gatwick Diamond
228.7
Rachel STORM
Worthing
226
Nick VOSS
Margate
225
Donna HACK
Southampton
219.5
Andy BASHFORD
Hastings JC
209.3
Keith ROBERTS
Dover BC
208
Debra LOVELL
Gatwick Diamond
207.3
Abby
Gatwick Diamond
206
Pauline STUKINGS
Southampton
204.2
Mia ROACH
Fareham
12
123
Tamsin NUNNS
Gatwick Diamond
13
100.7 .
BRONZE
Hannah MacKINNON .
Margate
196
Mat CRAVEN
Hastings JC
195
Nicholas SHEPARD
Margate
188
John McMILLAN
Worthing
179.9
Iain LOVELL
Gatwick Diamond .
173
Thomas STUKINGS
Southampton
169.6
Michelle VOSS
Margate
167
Jake MEARS
Southampton
166
Eleanor WAREHAM
Southampton
153.2
Dawn FORSYTHE
Hastings JC
152.4
Simon CLEVERLEY
Hastings JC
152.4
Janet GILBERT
Gatwick Diamond
150.7
Angela STEVEN
Hastings JC
149.8
Sarah SMITH
Southampton
145.2
Colin CASTLE
Tonbridge
142
A.
Folkestone
139
Mark SPIERS
Gatwick Diamond
130
Tina ROBERTSON
Fareham
129
Jane BASHFORD
Hastings JC
127.3
Louanne HICKEN
Worthing
127
Antoinetta LOVELAND + Bailey

.

Worthing
121
Arsalan SAEED
Gatwick Diamond
119
Leah ROGERS
Fareham
118.3
Luke GRAY
Worthing
116
Marina BOERO
Gatwick Diamond
114
Thomas RICHARDSON
Gatwick Diamond
114
Aishah McCABE
Gatwick Diamond
114
Neil
Gatwick Diamond
114
Tina GORRINGE
Gatwick Diamond
113.2
Sue GREET
Brighton
109.5
Catherine SHEPPARD
Hastings
107
Tamsin GRAHAM
Southampton
106
Sophie
Gatwick Diamond
103
Louise STUKINGS
Southampton
100
Finley PRATT
Fareham
13
63.5

...
Also participating – adding an average of over 65 Kms each (a total of 1497.3 Kms)

.

Emily ROACH
Fareham
Steph HUTCHINGS .
Worthing
Tristan COURT
Brighton
Clint WILLIAMS
Worthing
Sandy MEARS
Southampton
Mick MEARS
Southampton
Allison DURRANT
Worthing
Matthew DURRANT
Worthing
Jane O'DONOGHUE
Worthing
Daniel O'DONOGHUE
Worthing
Chloe MITCHELL
Worthing
Allison PRATT
Fareham
Tanya WOODSIDE
Worthing
Mary LOVELL
Gatwick Diamond
Martin LOVELL
Gatwick Diamond
Tracey JONES
Gatwick Diamond
Andrea BURR
Gatwick Diamond
Harry LEE
Gatwick Diamond
Keith WATERS
Hastings JC
Sara
Gatwick Diamond
Kerry ERASMUS
Gatwick Diamond
Mary BALDWIN
Worthing
Colin FINNEGAN
Worthing

...

CLUBS
Name
Participants
Total Kms done
Gatwick Diamond
27
3686.9
Worthing
19
2819.4
Southampton
14
2530.7
Margate
8
1780
Hastings JC
8
1169.2
Brighton
4
898.3
Fareham
8
627.0
Folkestone
2
368.0
Dover BC
1
208.0
Tonbridge
1
142.0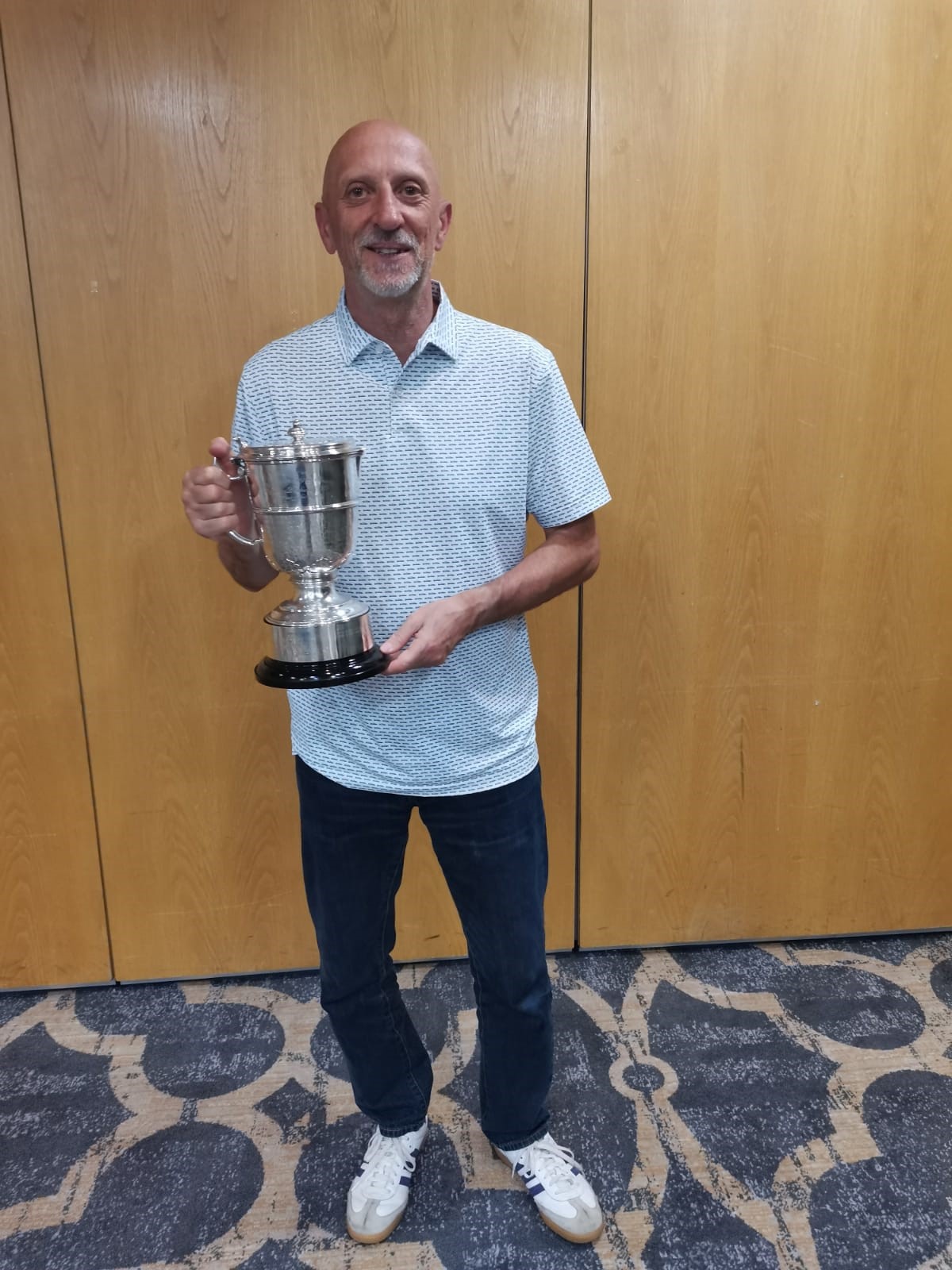 The second golf day saw a return to Hoebridge Golf Centre, Old Woking. The 12 players were split into 4 groups of 3 for an 18 hole individual Stableford competition. All in all it was a close competition with the majority of players getting 33 points or more. There was however a tie at the top with both Richard and Mark coming in with 38 points. On countback the trophy was won by Richard. The nearest the pin prize went to Gavin and longest drive to Mark. It is hoped that we will return to this venue again next year for both our society day and for the Trew Cup match against London and East of England Regions which our Region is hosting in 2024.
The society also enters teams in CSSC golf events over the year. The first of which was at Stoke by Nayland, Colchester in March where we had two teams of four representing the Region. As always the event attracts a lot of players from across the country and both our teams put in an excellent performance finishing in second and third spots overall after two days of golf. Carlo, Mark, Steve and Richard made up the 'A' team and Mark, Paul, Mark and Gavin the 'B' team.
The second CSSC event we entered was for the Haddow trophy at Redditch Golf Club, an event we have contested for the past few years. Again a team event against other Government Departments where we entered two teams of 4 and once again put in a brilliant performance with the 'A' team of Carlo, Mark, Paul and Mark finishing in runners up spot overall and the 'B' team of Sam, Guy, Alex and Gavin in third place. Special mention should go to two members of the 'A' team, Carlo,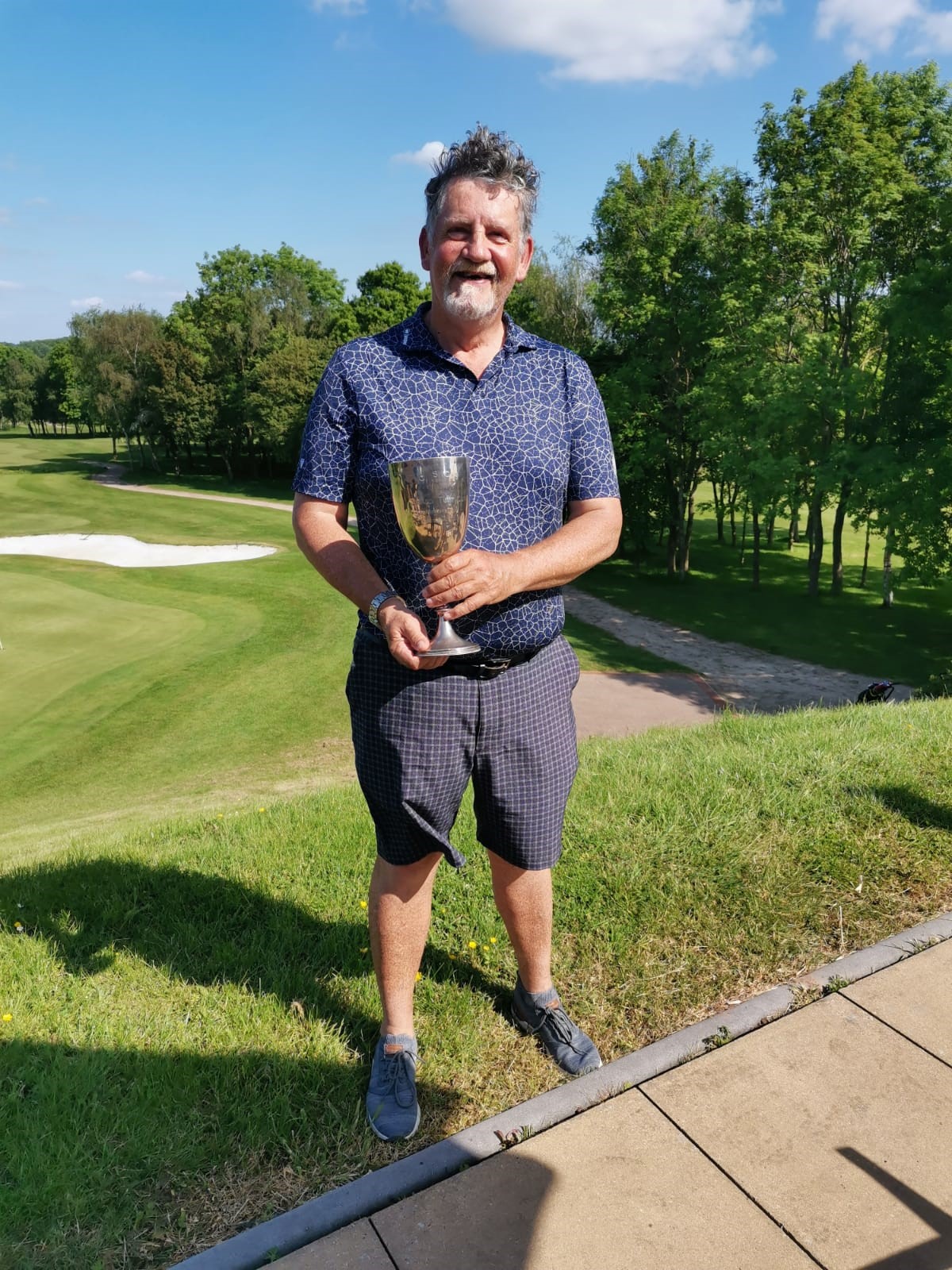 who won the individual event for the best Stableford points score of 38 points on the first day and to Mark who won on the second day with 37. Overall, the best result we have achieved in this competition.
The next event of the season was our HASSRA golf day which incorporated the HASSRA national qualifying competition with the winners of both the men's and ladies events going onto Warwick in September to represent the Region in the HASSRA National Golf Championships. The day was held at Copthorne golf club, Surrey with an entry of 13 players for an 18 hole individual event. The day was won by Steve S who took the men's gross title, Gavin the men's nett title and Gill and Julie the ladies titles. Congratulations to all the winners who will be representing the Region at the HASSRA nationals. Steve also managed to win the nearest the pin prize.
The HASSRA South East Regional team stayed over at The Ship Inn, West Stour, Nr Gillingham, Dorset SP8 5RP.
The weather was considerably better than when we last fished Ash Lake at Todber Manor Fisheries in 2017 when the rain was lashing down and the wind blowing a gale. That day we also had two helicopter gunships flying overhead so quite a day to remember!
Unfortunately, the West of England team only had five anglers so it was agreed that all six of our anglers would fish, but our bottom weight would be dropped.
You will note from the results below that HASSRA South East won this match by quite a large margin!
ASH LAKE
TODBER MANOR FISHERIES, DORSET
SOUTH EAST
WEIGHT
Brian
157lb 14oz
1st
Chris
127lb 0oz
3rd
Roy
115lb 12oz
Peter
88lb 4oz
Rob
78lb 5oz
David
47lb 8oz
[DROPPED]
TEAM SOUTH EAST
568lb 3oz
SOUTH WEST
WEIGHT
Geoff
78lb 12oz
Chris
134lb 10oz
2nd
Ron
103lb 8oz
Gary
50lb 2oz
Phil
39lb 0oz
TEAM SOUTH WEST
406lb 0oz
The other 3-way Inter-Regional match will be against HASSRA The East of England and HASSRA London on 22/10/2023. We look forward to seeing you at the Summer Shield on 30/06/2023 on Lake 6, Orchard Place Farm Fishery, TN12 6NY.
Until then Tight Lines!
Rob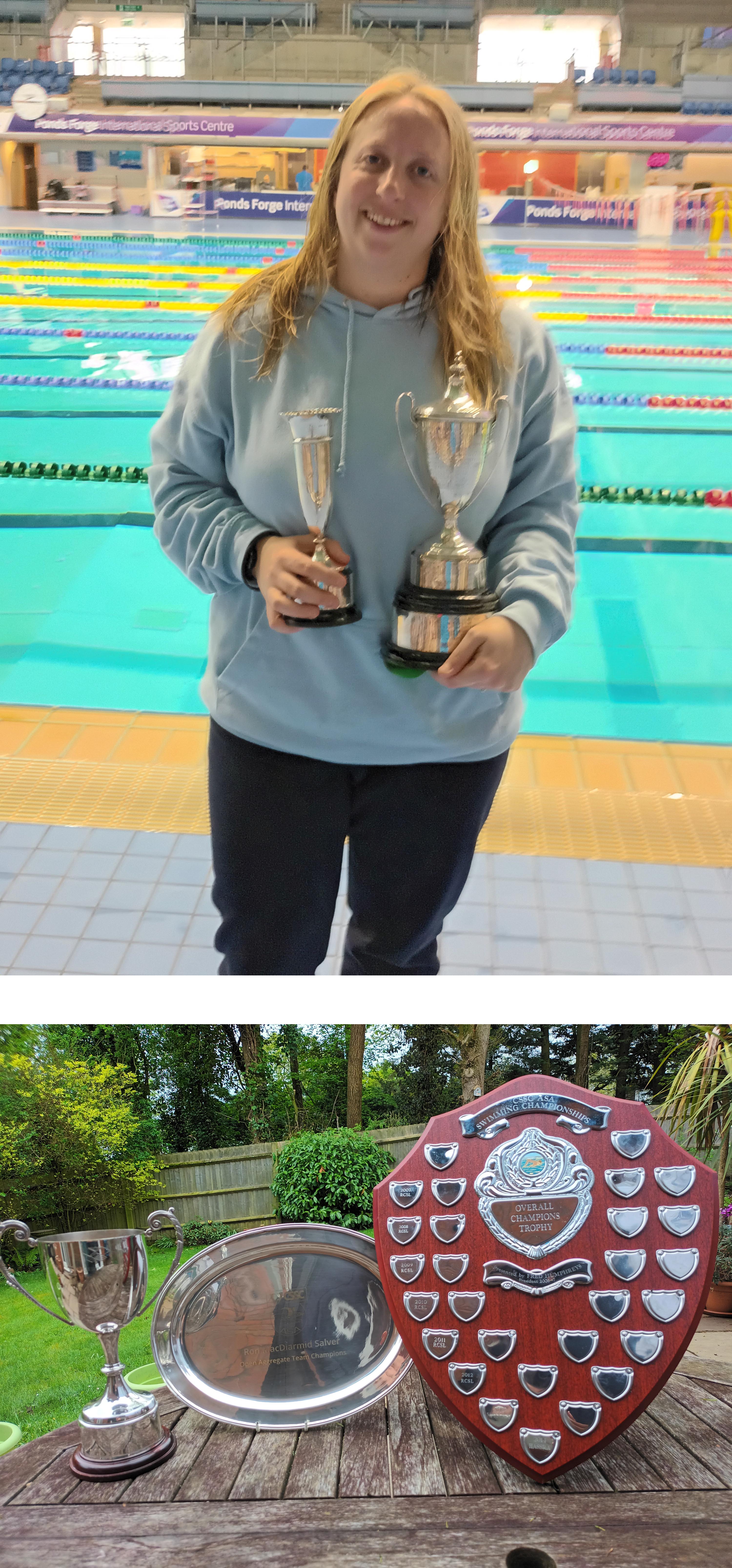 The National Swimming Team did HASSRA proud and we looked great in our HASSRA South East polo shirts!
I said at the AGM that my wife Sam and I were the only HASSRA South East Team members, but we didn't realise we had a new star swimmer from Hastings JC! Jayne was not only the Overall Women's Champion, she won the Firmboard and Springboard Diving and was part of our women's Team who won the CSSC Lifesaving Championship. She was also a key swimmer in our first choice relay team. As her Swim Team manager, I was a bit disapointed that she wouldn't also join our Water Polo team but you can't have everything!
HASSRA Ladies came First, Second and Third in the Women's Overall Championship, helping us win the Women's Open Championship Trophy.
Our Men won the HASSRA Masters Championship. (that's the Cup in the photo). We'd not won this since 2005. The salver shown was for the Aggregate Team winners and the shield was for Overall Champions.
Colin
--------------------------------------------------------------------------------------------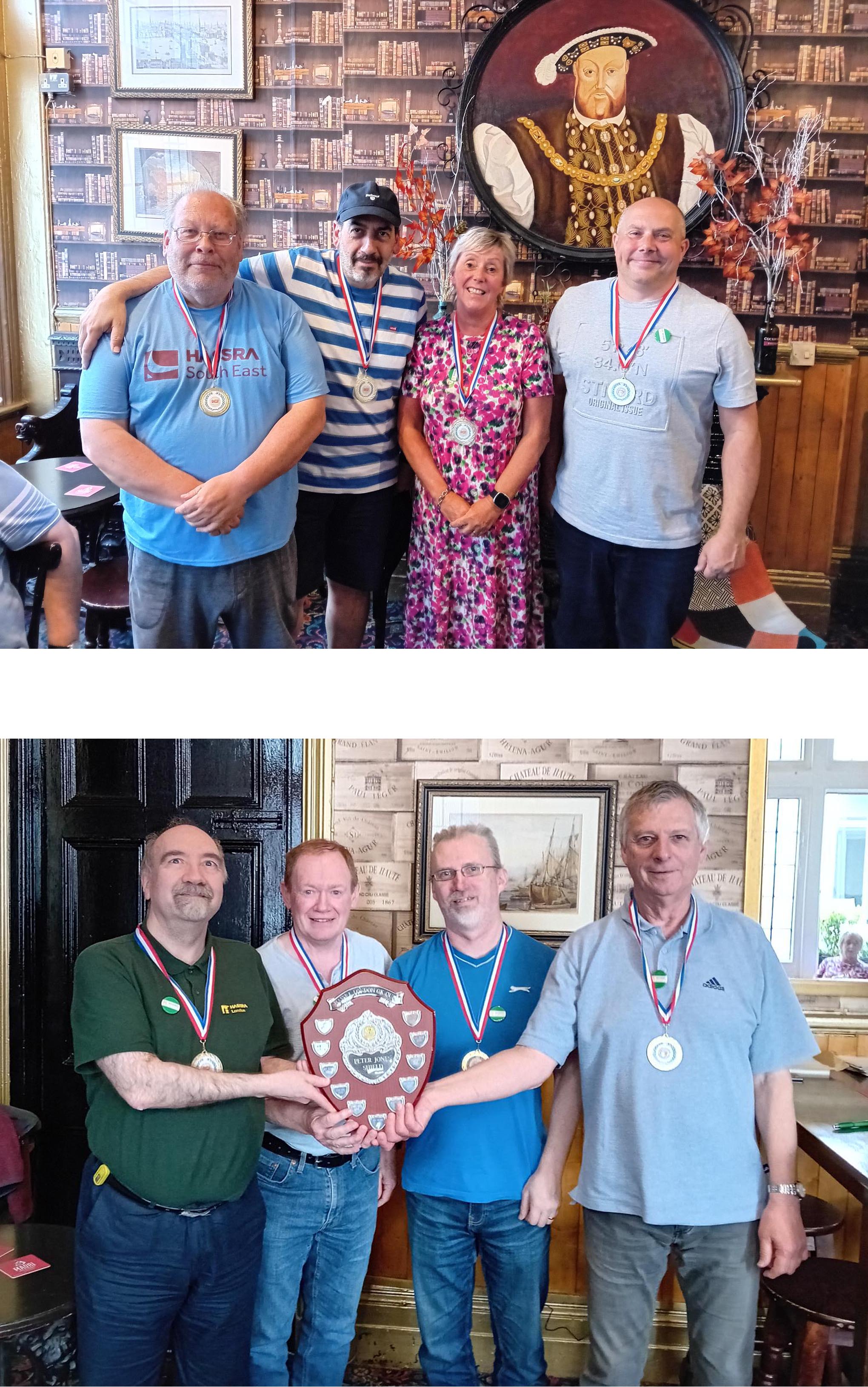 The GK Quiz winning team from Ilford were overall winners for the GK quiz.
Second is the Sports Quiz winning team, combination of Milton Keynes and Chatham. Again, overall winners for the Sports quiz on the day.
Well done everyone.
Ray