Edale and Hope August 2022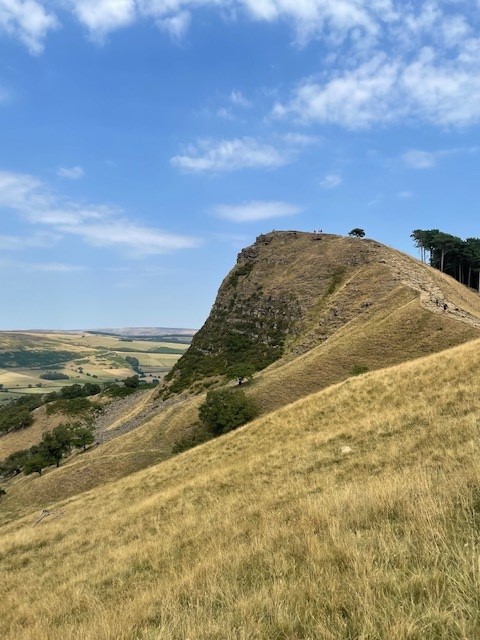 For our first adventure we headed to the beautiful village of Edale in the Peak District.
Edale is best known to walkers as the start, or southern end, of the Pennine Way and, to less ambitious walkers, as a starting point for evening or day walks. The village is accessible by generally hourly railway services and yes! There is a pub for that midday break
The day included two lovely walks; a small one around Edale in the morning - a nice 3.5 mile (although the terraine and incline made it feel a lot longer) and a slightly longer one from Edale to Hope Valley in the afternoon consisting of 5.5 mile and again the high temperature (yes it's summer but we don't tend to experience it quite this high) the walkers did considerably well in the heat. The walk finished in Hope village.
It was a tough climb both in the morning and the afternoon but the views made it all worthwhile, please have a look at some of the photo's taken on the day by our lovely walkers.......­Thank you Edale and Hope, for being so beautiful
A few comments from our walkers.....
"Just wanted to thank you and HASSRA for the great walk today - it was a great experience with a lovely group of people. Dougie also felt very included despite him not being a member . It's something I would like very much to be involved with and I am so glad that HASSRA had instigated this walking club - a great way to get fit and meet new people. Can't wait for the next walk! "
"Thoroughly enjoyed yesterday's walk, lovely bunch of people, fantastic views from Mam Tor and good venue for lunch. My only suggestion would be to put some sort of grading on the proposed walk so prospective walkers know what to expect. Overall great day and thanks for organising 🌞😎👍"
"What can I say. We had the best day out we've had for absolutely ages. It was a pleasure to meet some lovely people. Can't thank you enough for organising such a fantastic day. I hope this is the start of a regular walking group"
"Thanks for a fantastic walk. Looking forward to the next one. Great opportunity to enjoy the outdoors and meet new people. I would encourage anyone to come and give it a go"
'"A great day with two nice walks in amazing scenery. Great lunch in the local pub and it was really nice to meet new people and I look forward to walking with the group again. Highly recommend anyone who is thinking of giving it a go to come along."