HDF Stories
Check out these great stories from some of our members who have been supported by the Development Fund.
Remember, the Development Fund is open to all our HASSRA members who meet the criteria as outlined in the HASSRA Development Fund Booklet (click the following link for an accessible version of the HDF form).
So why not apply – we'd love to see your stories published here in the future!
---
Tony Southern takes on the World.
Tony has played all over the world, having won numerous titles over a long and established playing career. He continues to achieve at the highest level, and recently played at the World Blackball Pool finals in France.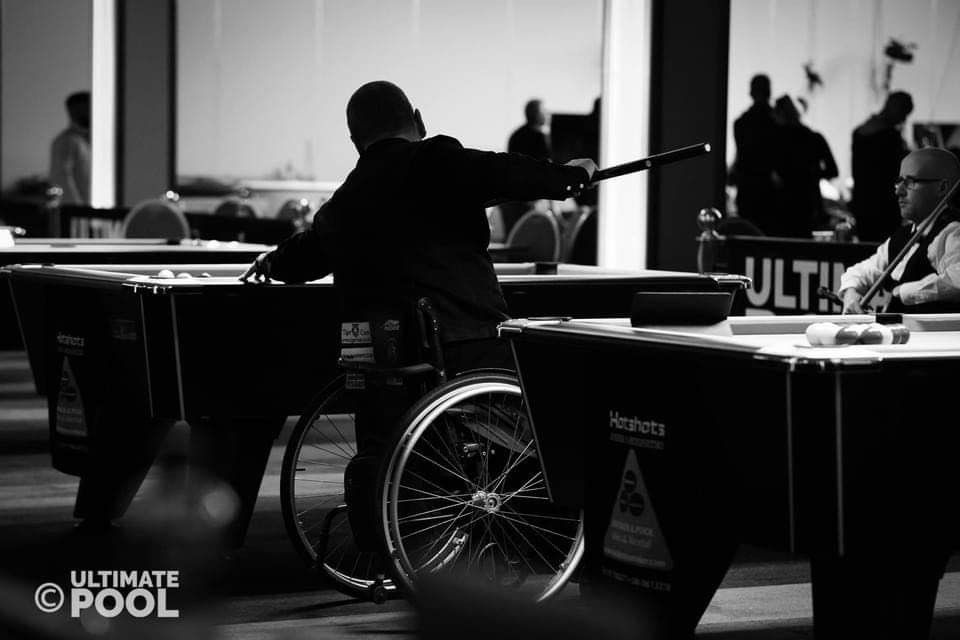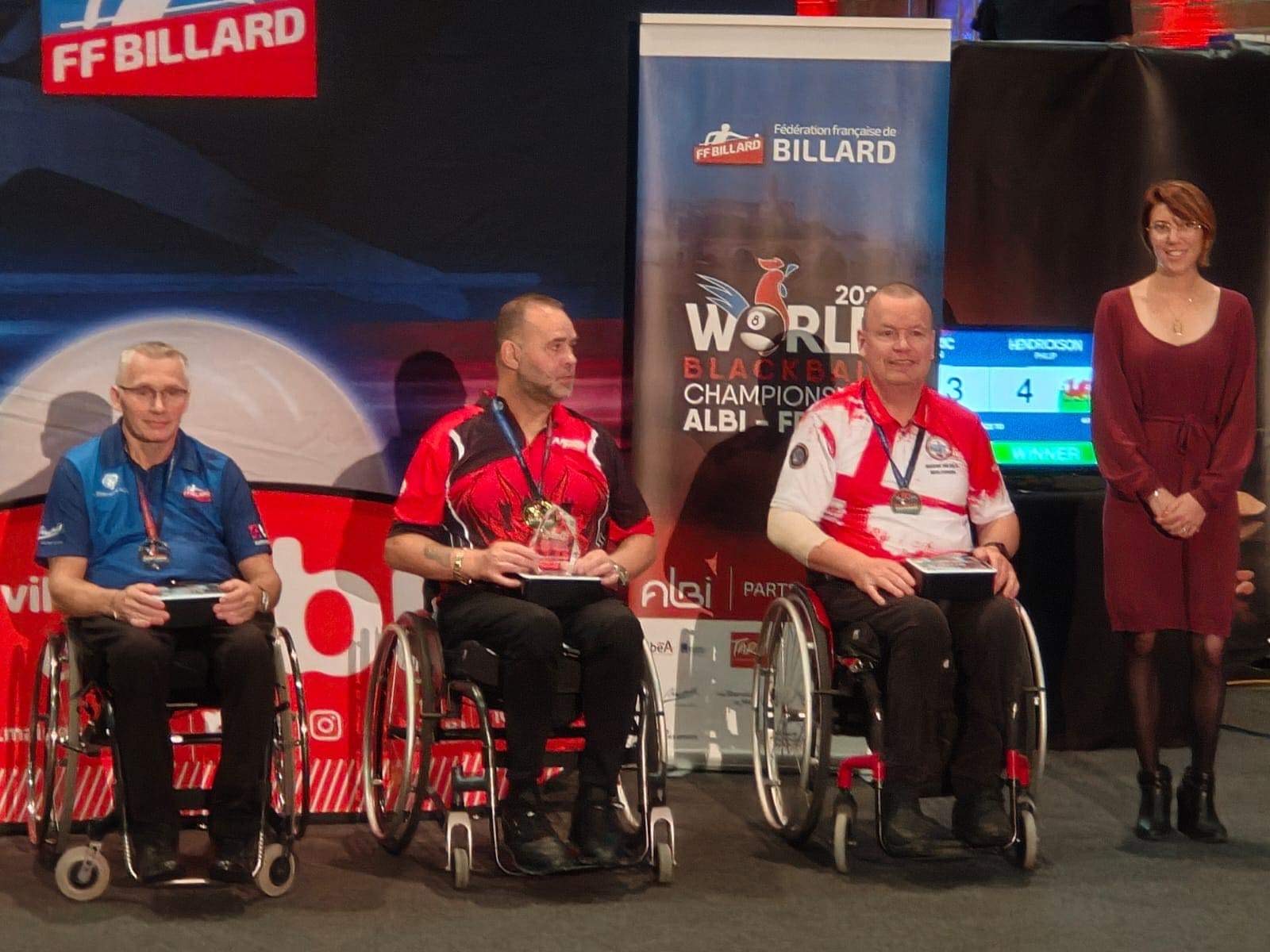 Unfortunately he was unable to defend his World Blackball Pool Wheelchair title this time, losing in the Semi Final to Yvan Carric from France who he had beaten in the previous final, but did won the 3rd place play off for the bronze medal. Tony pictured here on the right with Yvan on the left and this years winner Phil Hendrickson from Wales.
---
Claire Edwards aims for glory.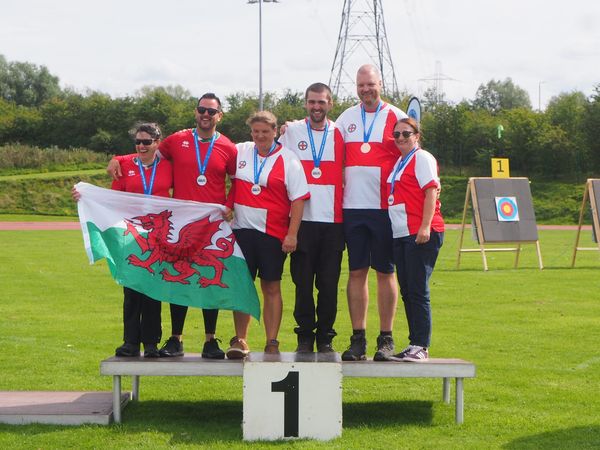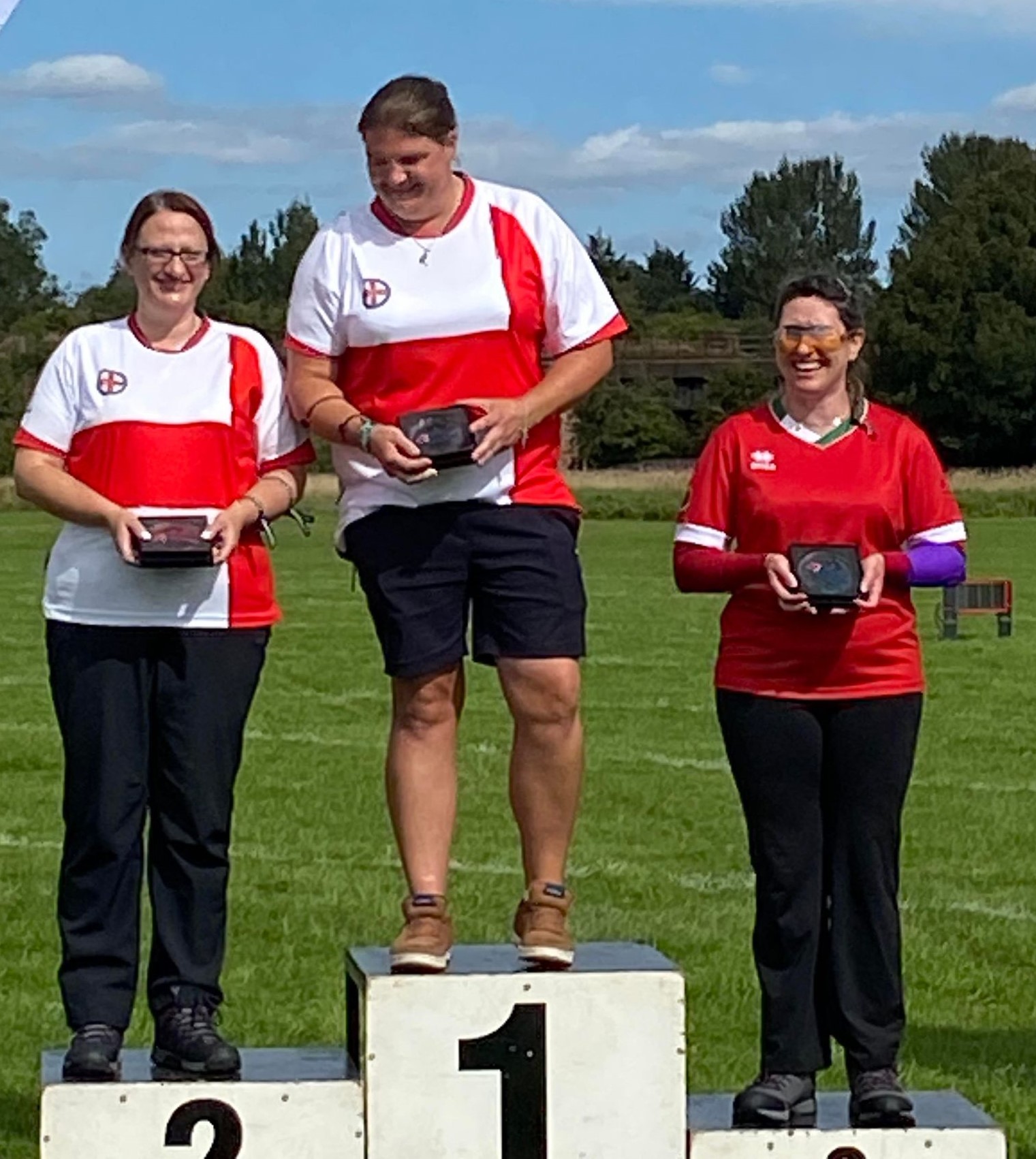 Shooting for Wales has been an ambition for some time but something I never thought I would achieve. This year I came across the saying "life is too short" and it seemed poignant at the time as I had received an e-mail about the Commonwealth Euro-nations being held in Scotland. I decided to apply never thinking I'd get selected, so was shocked when the announcement came and being selected was overwhelming! It was scary, exciting and everything you can imagine, so when I put on the Red shirt of Wales for the first time I did choke up.
Day 1 of competition was the individual rounds. I didn't shoot my best unfortunately so I was shocked when I was called up to take the Bronze. Yes, there were tears in my eyes on the way up to collect the award, thank goodness for the glasses! Day 2 of the comps saw Christopher & I compete in the mixed team head to heads. Never having done head to heads and knowing it was live streamed on You tube I thought it would make me nervous but instead we had such a laugh & took the Silver! The 1st picture is myself & Chris taking the Silver on day 2, 2nd pic is me (far right) taking the Individual Bronze on Day 1. What a fantastic result for our 1st time shooting for Wales!
Being in Scotland with the team was amazing, I got so many new friends & so many wonderful memories. A massive thanks Hassra for your support in helping make this possible.
---
Sarah-Jane O'Brien shows how rewarding being a volunteer can be!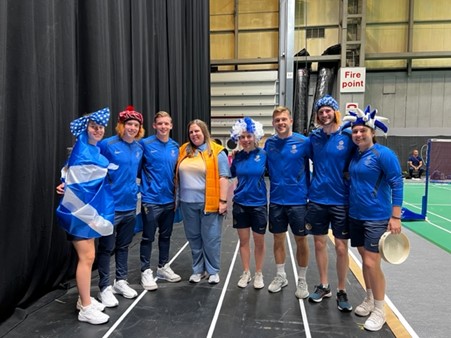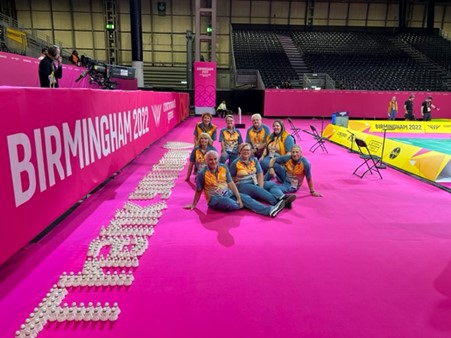 Just under a year ago I travelled to Birmingham for my interview and earlier this year I found out I had been picked to volunteer at the Commonwealth Games in Birmingham this summer. I was given a role in the athlete services team at the badminton and I was based at the NEC Arena. I worked with a lovely group of people who had a mixed knowledge of badminton. It was a sport I had not volunteered at before so it was really interesting to see the players and get an insight into the moments before and after matches.
You can read more of Sarah-Jane's story and see more great images from the Games here.
---
Martin Barry - proving you are never to old to achieve even more.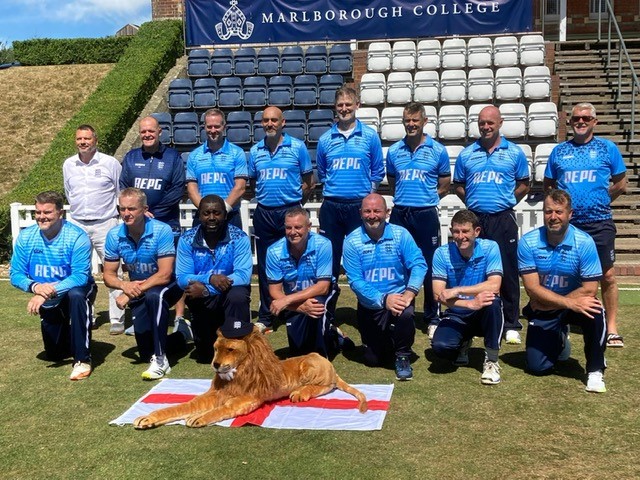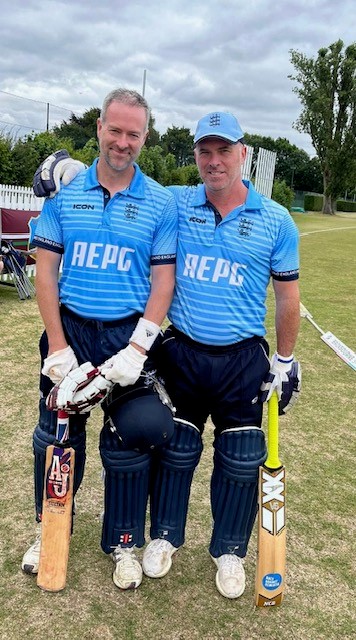 I've been a keen cricketer since my schooldays, and now many years later, and firmly at home in the 'veteran's category', I certainly wasn't expecting an international call up at the ripe old age of 50.
I had been selected for the Sussex Over 50s cricket team for the first time earlier this year, and despite achieving some success, I was very surprised to receive a call from Peter, who introduced himself as the manager of the England Over 50s team. Peter advised me that I had been selected for 3 upcoming England matches, against the West Indies, India and finally Wales. A very generous contribution from the HASSRA Development Fund has been invaluable in helping me to continue to work towards achieving my goal of participating in the World Cup. You can read how Martin, 2nd Photo shows him on the left with Giles, the number 1 ranked over 50s batsman in the world and the team got on and more here.
---
Nerys Legg charts a course to success.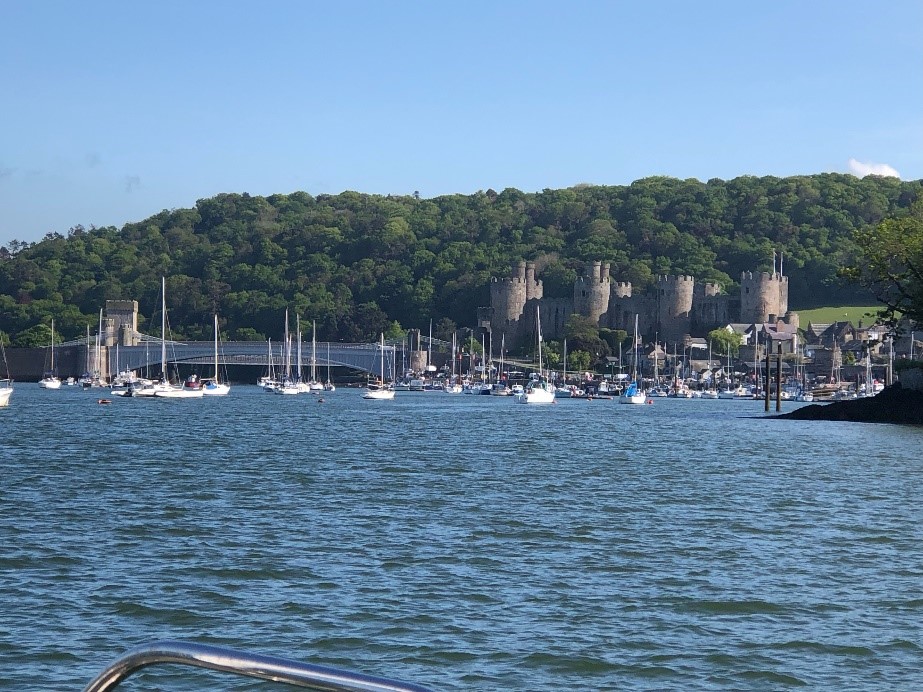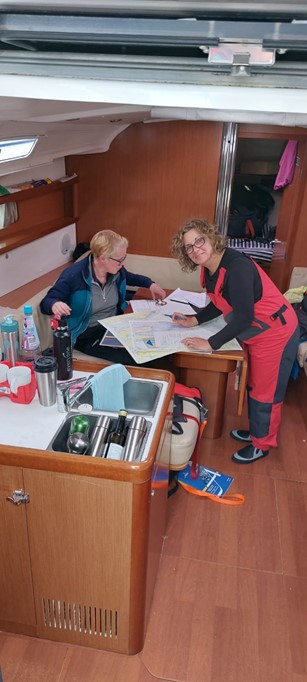 I started dinghy sailing as a child and through HASSRA took part in the IDOR Regatta in 2012. From that moment, I was obsessed with big yacht sailing, but there was no prospect of me affording the time or costs involved in keeping a big yacht.
So I carried on applying for IDOR annually and started gaining some RYA qualifications to build my knowledge of navigating and sea safety. I then committed to a challenging schedule – a week building miles starting from Liverpool, sailing to Conwy in North Wales, then the big one – sailing across the Irish Sea to the Isle of Man and onto Bangor, Northern Ireland then eventually Scotland! You can read the full blog of Nerys training, adventures and experiences and more here.
---
David Baldie has a passion for Australian Rules Football.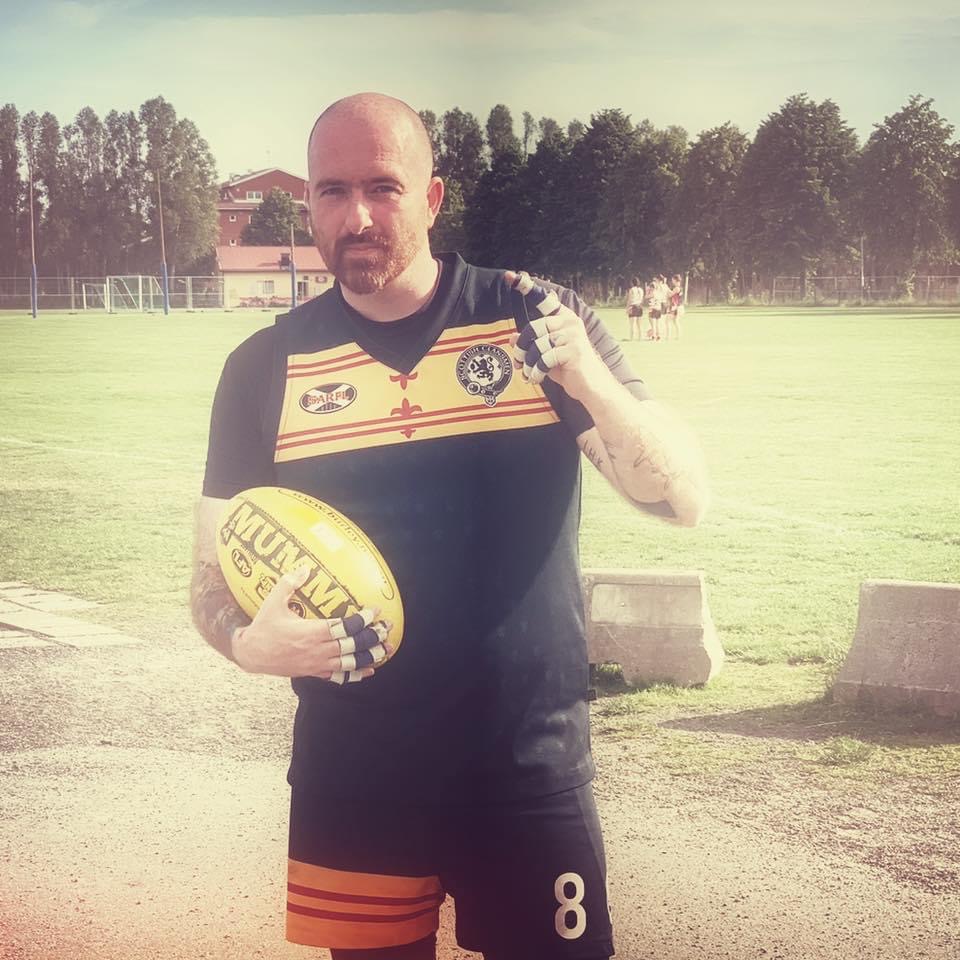 With the support of HASSRA I have been able to advance my umpiring skills and experience, I recently travelled to the Home Nations Cup in Belfast, this gave me an opportunity to umpire international level games. This was the first international matches that any of the UK & Irish nations had played since 2019. There was a great atmosphere with the Irish women's and Northern Irish men's squads coming out on top.
The skills learned at that tournament are transferable to my domestic leagues and I hope to continue my own development to help others develop their skills, hopefully leading to a larger pool of officials. Read David's full write up here.
---
Rachel Cameron takes on the Triathlon Challenge.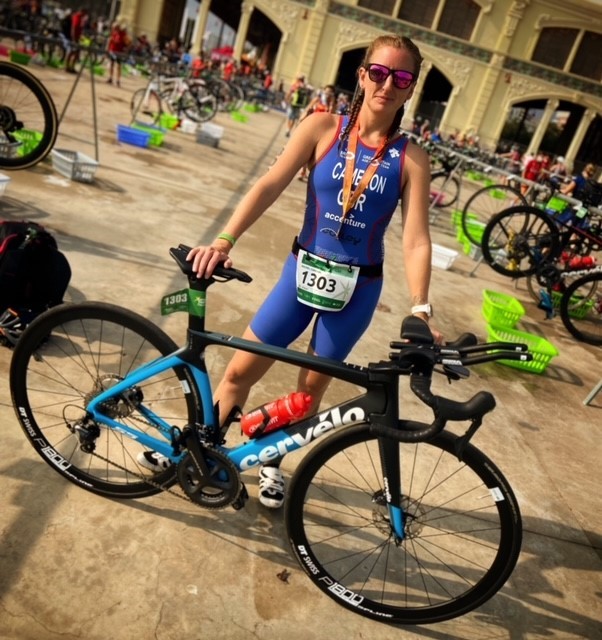 Sport has always been my thing, but never have I excelled, always just been average. Following a rough period in my life where I fell from disaster to disaster, I discovered running. I joined my local club and the welcome, the confidence building and the general feel of belonging had me hooked. I started achieving my goals, increasing my distances, making the top three in local races, ticking off club milestones, London Marathon came and went so what was next?
My Club had the idea of a Couch to Sprint Tri programme, I mean I can swim bike and run but these guys were bonkers to do it all in once race! So off I trotted to sign myself up. The training was a shock, who on earth gets up at 5am to train….FOR FUN?!?!...well apparently that would be me now. Training before work, training after work, literally eating, sleeping and breathing swim bike run. My shock at being told I was third lady in my first triathlon, followed by lots of laughs as I questioned the person awarding my trophy, "are you sure?!"
You can read Rachel's full story and how she got on racing in Valencia here.
---