HASSRA South East
Welcome to HASSRA South East

Check out the HASSRA South East Facebook and/or Twitter pages to find details of all our sports events, offers and activities. If you are not a social media user or you can't find what you are looking for, please get in touch at HASSRA South East
GRAND SOUTH EAST MEMBERS DRAW!
The 2020 Draw, with five winners each winning £404. Entries to HASSRA SE by no later than 31st January 2020 giving Name, Location and NEW HASSRA Live Membership Number and answering the simple question " What is regarded as the perfect eyesight ratio?"
[Only one entry per member and the first answer received will be accepted, subsequent emails will be deleted. All entries made must come from the individuals own account, either work or personal. Entries without the full details requested will be deemed incorrect. The draw will take place electro­nic­ally on Monday 3rd February and winners will be notified by email. Prizes will be paid by BACS and winners will be asked to provide their bank account details to facilitate this.]
HASSRA Live!
If your name is displayed at the top right of this screen then you have already activated and signed in to your HASSRA Live account. If not, please sign in now.
Instructions on how to activate your HASSRA Live account, download your new membership e-card and subscribe to HASSRA Live newsletters are shown below.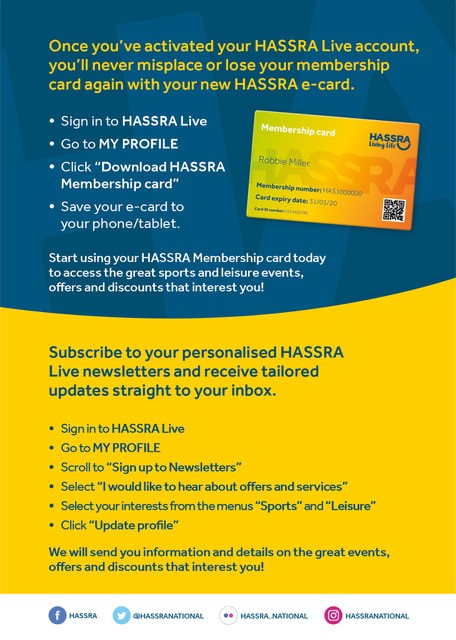 HASSRA South East covers staff located in offices in Berkshire, Buckin­gha­mshire, Hampshire, Isle of Wight, Kent, Oxfordshire, Surrey, Sussex and Broadmoor Hospital.
Are you in an office with only a few HASSRA members and have no proper on-site club?
With just a handful of members you can start up your own official HASSRA Club and get support to:
Get your own office rebate from your Regional office to support your club

Get ongoing support from your Regional contact

Raise funds for a charity of your choice with management support
For further information contact Tracy on: tracy.champion@dwp.gov.uk tracy.champion@dwp.gov.uk
Related links