HASSRA South East
Welcome to HASSRA South East

Check out the HASSRA South East Facebook and/or Twitter pages to find details of all our sports events, offers and activities. If you are not a social media user or you can't find what you are looking for, please get in touch at HASSRA South East
South East and London Pool
Friday, 24th April at Rileys, Victoria, London. Commencing 12 midday. Click HERE to find the application form.
Warhammer Event
We are planning to hold a Warhammer Event for South East HASSRA members at 'Warhammer World' in Nottingham on June 6th. If you are interested in going please contact Noel on Noel.Whitmore@dwp.gov.uk for details.
Badminton Doubles - Please note!
The Regional Badminton Doubles event has been rescheduled until Tuesday 21st April. Please watch this site in case of further changes.
HASSRA South East and London Sports and Social Day!
Will be held at NPL Teddington on Wednesday 10th June 2020. Book your leave now! Watch out for further details on the South East Newsletter, SEView and the South East web-site.
Photo Competition
Prizes: £30 for best in each category. £15 for runner-up in each category. One category for 'Amateur' snaps - 'Lucky Chance'. Four categories for photog­raphers - 'Portrait', 'Landscape', 'Animals' and 'Still Life'
Maximum of three photos in each category, Email them to me, Maggie, on Carolinecrescent@hotmail.co.uk by Friday, 27th March giving the title of the photo and category entered. I will also need your name, office and new HASSRA number.
Only HASSRA South East members may enter!
HASSRA Live!
If your name is displayed at the top right of this screen then you have already activated and signed in to your HASSRA Live account. If not, please sign in now.
Instructions on how to activate your HASSRA Live account, download your new membership e-card and subscribe to HASSRA Live newsletters are shown below.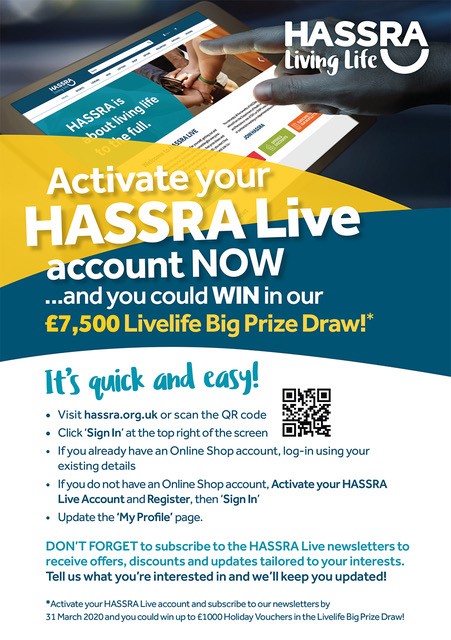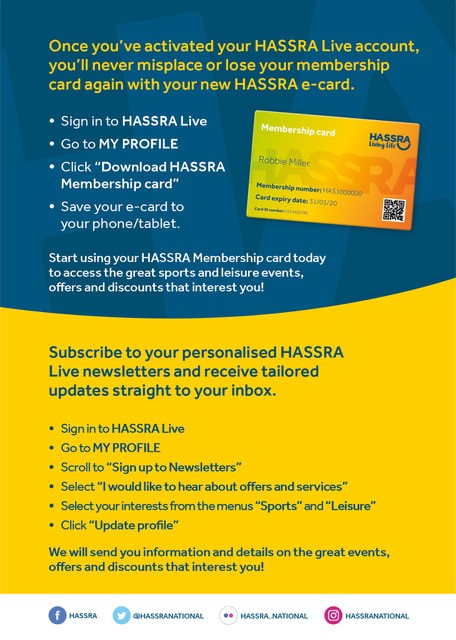 HASSRA South East covers staff located in offices in Berkshire, Buckin­gha­mshire, Hampshire, Isle of Wight, Kent, Oxfordshire, Surrey, Sussex and Broadmoor Hospital.
Are you in an office with only a few HASSRA members and have no proper on-site club?
With just a handful of members you can start up your own official HASSRA Club and get support to:
Get your own office rebate from your Regional office to support your club

Get ongoing support from your Regional contact

Raise funds for a charity of your choice with management support
For further information contact Tracy on: tracy.champion@dwp.gov.uk tracy.champion@dwp.gov.uk
Related links