Sheffield Canal Trip with Meal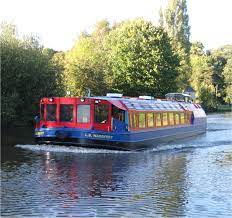 Saturday 11 June 2022 - 4.30pm - 8.00pm
Why not join us for a leisurely boat trip along the Sheffield and Tinsley Canal from Victoria Quays Sheffield to Tinsley. We'll board from 16.30 for a 17.00 departure.
What's Included in the Price?
3 hours sailing along the canal

Beef Steak Desperate Dan pie, mushy peas and gravy OR

Vegetarian, vegan and gluten free will be catered for provided any dietary requirements are confirmed at time of booking

A licensed bar from which you may purchase a selection of drinks.
Prices
HASSRA Sheffield members £20.00

CSSC & HASSRA Sheffield members £12.00

Non member £26.50
Each HASSRA Sheffield Member may purchase one HASSRA Sheffield Member priced ticket per unique HASSRA Sheffield membership number.
Notes and restrictions
The boat is wheelchair accessible up to 74 cm wheel (standard wheelchair size)

Own food and drink must not be taken on board the boat.
Closing Date
When the final ticket is sold or 6th June 2022.
HASSRA Sheffield Members
If you are a HASSRA Sheffield member only, please CLICK HERE to bypass this step and book your tickets.
Please contact Kathleen Bulmer at kbulmercssc@gmail.com if you have any queries.
About The Sheffield and Tinsley Canal
Built early in the 19th century it was first navigated in February 1819. It stretches from the basin canal terminus (now known as Victoria Quays) following a similar route to the Don River via Attercliffe and Don Valley Moorings before reaching Tinsley and a flight of 12 locks prior to merging with the river Don.
This section of waterway is just under 4 miles long, and was originally a commercial waterway, but remains busy with leisure boats traversing its length throughout the year. Steeped in a rich industrial history it is also a vibrant city space for walkers, cyclists and fishermen all attracted to both its industrial past and the green views.