Crown Green Bowls I/A
Crown Green Bowls Inter Association.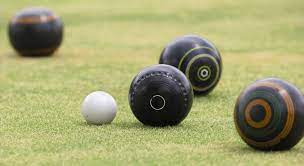 The event which is open to all regions, who can send 2 singles and 2 pairs to compete, took place this year on 12th August at The Heckmondwicke Bowls Club, Yorkshire.
Congratulations to this years winners:
Singles winner - Paul Holden (North West)
Runner up - Steven Lang (Fylde)
Pairs winners - Linda Hough & Alan Turner (North West)
Runners up - Paul Whiteley & Steven Jackson (Fylde)
The day was played in a very sporting but competitive way, the weather stayed fair and the club were as usual welcoming and very accommodating.
The standard of play was of a very high level, and we had several first timers to the event who all really enjoyed it and are hoping to qualify for 2024.
Thanks go to Ian Burgess for organising this years event, and he is looking to play next years event in the West Midlands area so that the event moves about the Crown Green Bowls world locations.