Waverley & Balmoral Pleasure Steamers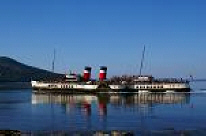 Step aboard for DAY, AFTERNOON or EVENING CRUISES from a port near you! Enjoy unrivalled access to Britain's Coasts, Rivers and Islands.
ENJOY A 10% DISCOUNT ON ALL PADDLE STEAMER WAVERLEY EXCURSIONS FROM A PORT NEAR YOU!
http://­www.­waver­le­yex­cur­sions.­co.­uk
Step aboard the last sea-going Paddle Steamer in the World for a Day, Afternoon or Evening Cruise in areas such as the Bristol Channel, Scotland, South Coast/Sussex and Thames.
You and your friends/family can enjoy a 10% reduction on all fares.
SCOTLAND June 28th – Sept 1st
Sailing from Glasgow, Helensburgh, Largs and more, you can explore the Islands of Arran, Bute & Cumbrae or take in the breathtaking scenery on deck as you cruise amidst dramatic loch scenery.
Waverley is magnificently restored with towering funnels, timber decks and gleaming varnish and brass – see & hear the mighty engines turn the ships famous paddles! There are excellent onboard facilities including a restaurant serving meals and snacks, two bars, heated lounges, engine room viewing gallery and a souvenir shop.
10% discount to HASSRA Scotland Members when phoning or buying the tickets on board. If buying tickets online, please call 0845 130 4647 and advise that you are a member. The 10% reduction will then be refunded.
(Please note that the 10% reduction does not apply to any public charters e.g PSPS fundraising cruises.)
HASSRA Scotland also offer further benefits to members, so look out for special offers advertised within your area